Sue Morris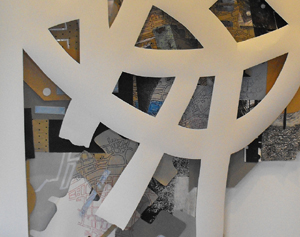 Sue Morris studied at Chelsea School of Art, followed by a three year MA at the Royal College of Art in London that was funded by a RCA bursary.
She has exhibited widely in the UK and Ireland and has had work commissioned and held in both corporate and public collections. She completed a two month residency at the Cite Internationale des Artes, Paris, lived in Spain for a brief period and although settled in south Sligo for the past fifteen years still travels extensively.
Along side her Art practice, she is a committed Art educator.
Following a solo exhibition in the Linenhall Arts Centre, Castlebar in Winter 2009, in 2010/2011 exhibitions of her work will take place in The Market Place Arts Centre Armagh (http://www.marketplacearmagh.com/), The Watergate Theatre Gallery Kilkenny and Queen Street Studios Gallery Belfast (http://www.queenstreetstudios.net/) .

Statement
Drawing is my primary concern and as such I am interested in pushing the boundaries of what defines a drawing.
In addition to working from source material I combine print making, text and collage using found material in conjunction with such mundane utilitarian media as Tippex, Biros and markers.
Instinctively, these works start small and concentrated but often move into larger formats. Work that begins on the wall starts to colonise the floor space and shifts from 2D into relief, from collage into bricolage, thus blurring the distinction between drawing and installation.

Email: suemorris@ireland.com
Web: www.suemorris.ie/