Stephanie McGowan
https://www.stephaniemcgowan.org/
stephaniemariemcgowan@gmail.com
Born in Antrim in 1992, Stephanie studied at the Institute of Technology Sligo, receiving her BA (Hons) in Fine Art in 2017. She then continued her studies at The University of Edinburgh where she gained a MA in Contemporary Art Practice in 2018.
McGowan creates immersive installations that encompass painterly methods and techniques. Drawn to the intersection between the natural world and the manmade, her installations frequently combine these two components in irregular formations. There is a sense of play here as the materializations become part of a visual narrative that is orchestrated, in a light-hearted but intentional space. These objects place an emphasis on materiality, the focus directed to them by the eluding forms. These sculptures appear polished, architectural, natural and body-like. McGowan also employs painterly techniques to a space to add illusionistic qualities that aim to contrast the real world.
McGowan's work not only blurs the boundaries of medium but also renegotiates borders between viewer and artwork, the organic and synthetic, the natural, spiritual and social worlds. McGowan wants her immersive environments to provide the prospect for another experience or world other than the one we know in everyday life.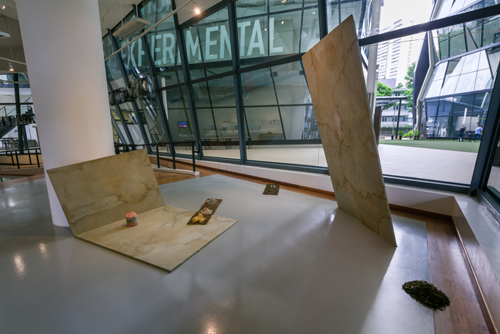 (Re) Assembled Impressions, installation at ICA Singapore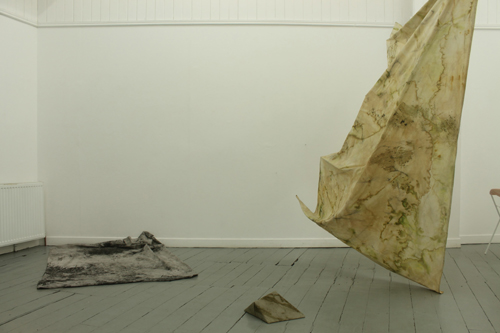 Restless, between you and the mountains - 2018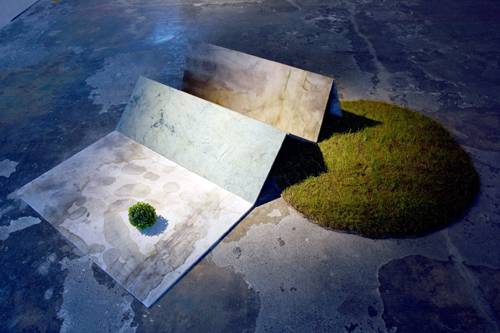 Reviving Plains, 2019 images Emma Zukovic
stephaniemariemcgowan@gmail.com