Patricia Curran Mulligan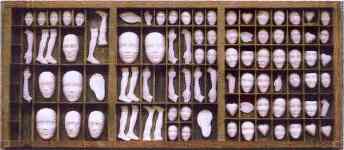 Patricia Curran Mulligan has lectured in Art/Design at Sligo Institute of Technology for over thirty years. A past graduate of Limerick College of Arts, National University of Ireland Galway and Sligo Institute of Technology, this is her fifteenth solo show.
Her works have been included in Selected Group shows as EV+A and Claremorris Open. Patricia's art works are included in the public collections of ESB, Dept. of Arts & Culture (OPW), Guinness Ireland, Tyrone Guthrie Collection, Goethe Institute Dublin, National Library of Ireland, Galway /Mayo Institute Sligo Institute of Technology.
Commissions and awards include Tyrone Guthrie Centre Residency / Moyglare Award / Sligo County Council Artist Residency Award. Her Art and literary works have been published widely, together with the private collections in Ireland, England, Sweden, Denmark, Germany, the USA and Australia.
Clone Bark Mask
Patricia's exhibition "Clone Bark Mask" was shown in the Yeats Memorial Building on Hyde Bride, Sligo from April 23rd - May 6th, 2011.
Clone Bark Mask is a part trilogy of exhibitions inspired during time spent by the artist on the Fred Conlon residency/studio bursary at Easkey, Co. Sligo. The first exhibition "Storm Drawings" was shown at the Hamilton gallery in September 2009 together with an artist talk on Culture night. This exhibition invites the audience to journey with the artist on Eighty Two days spent in isolation;
"Become one with the sea storms,
Rewrite sea shanty sounds that puncture your eardrums.
Hear the roar of survival when gale-force plucks the holdfast into drift.
It is this west Sligo coastline that calls out, invites the artist to order the dismembered storm.
To sort, wade through and salvage.
Unscramble the text, clear the debris.
Reinvent, breathing new life forms into an altered course.
A random selection of the fittest.
It does not matter what materials you use, it is the altering that counts."


For a vitual tour of the exhibition see: vimeo.com/23791272