Barra Cassidy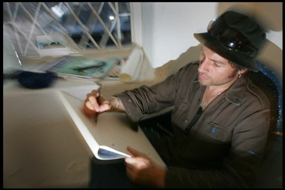 http://www.barracassidy.com/
barracassidy@gmail.com
Barra is a Dublin born artist and is living in the north west of Ireland for nearly a decade now calling Sligo his home.
Barra is a predominantly self-taught artist who never attended conventional college. He considers himself to be an eternal student because he has no desire to stop learning and exploring new areas as an artist.
His first love of sculpture has not been left behind as he begins to enter a new frontier of painting. Barra draws a lot of his inspiration from his love of nature and animal behaviour, that which certainly includes the complexities of human behavior.
He is also influenced greatly by his passion for a wide range of music, often listening to some as he works and enjoys DJing in local and national venues.
Website www.barracassidy.com