Michael Wann
http://www.michaelwann.com/
studio@michaelwann.com
Born in Dublin in 1969, Wann lives and works in Co. Sligo, gaining his BA in Fine Art from Sligo Institute of Technology. He has held solo exhibitions at the Linenhall Arts Centre, Castlebar (2005), and Sligo Art Gallery (1999, 2002, 2005, 2009), where he won an Iontas Drawing Award in 2000.
He has been selected for the RHA's Annual Exhibition since 2004, where in 2006 he was awarded the AXA Insurance Drawing Prize. Other group exhibitions include Boyle Arts Festival, Claremorris Open, Wexford Opera Festival, and Molesworth Gallery, Dublin.
Wann's work is specifically drawing-based, and this current exhibition includes large-scale compositions completed while on residency at the Cill Riallaig Project, Co. Kerry, and the Ballinglen Arts Foundation, Co. Mayo, during the summer of 2008. The drawings are taken from the immediate locale of north Sligo, and juxtapose arbitrary or transient images of cleared landscape, with more thought provoking depictions of the dereliction of habitation. They are as much about a process of mark-making as they are about representing a seemingly neglected landscape. A tonal richness challenges the viewer to look beyond the immediate surface image.
Within the chosen mediums of charcoal, water and pencil there exists a wide and versatile imperfection of process. It is in the smudge and drip and simple dirt of the medium that there exists both vital and flawed elements of mark-making, where the spontaneous and accidental become of equal importance to that of the rational and intentional. Process here can be interpreted as the search for where these varying marks converge in the making of a landscape.
For more information see the following websites:
www.royalhibernianacademy.com
www.michaelwann.com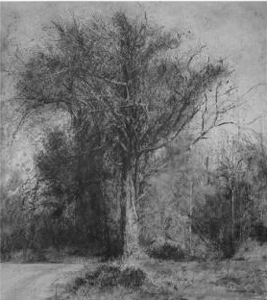 Michael Wann lives and works in north Sligo. Originally from Dublin, he graduated from Sligo Institute of Technology in 1992 with a Diploma in Fine Art, and in 2002 with a Bachelor in Fine Art.
In 2001 he won an Iontas Small Works Drawing Award from Sligo Art Gallery, and has been awarded residencies at Cill Riallaig Artists Retreat in Co. Kerry in 2001, 2004 and 2008.
Michael has held many solo exhibitions of his work, and has been selected for the Royal Hibernian Academy's Annual Exhibition in 2004, 2005, 2006 and 2007, where he was awarded the AXA Insurance Drawing Award in 2006.
His work forms part of private and public collections nationwide, including Boyle Civic Collection, Mayo County Council, Sligo, Fingal County Council, Dublin, Office of Public Works, the Yeats Society and Beaumont Hospital.
Michael's work was invited for inclusion in Boyle Arts Festival's 'Emerging Artists' Exhibition in 2007, and also in 2007 he was awarded a Fellowship from the Ballinglen Foundation in North Mayo.
He is currently working towards two solo exhibitions, at the Ashford Gallery at the RHA, Dublin, in early 2009, and at Sligo Art Gallery later the same year.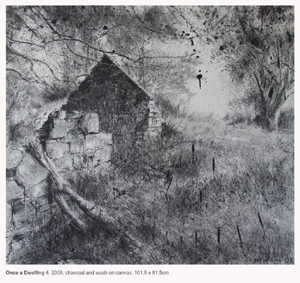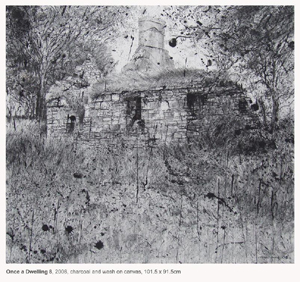 - The Ashford Gallery at the RHA, Dublin presents a selection of drawings by Michael Wann entitled 'Humble Remains'.