John Conway
http://www.johnconwayartist.blogspot.com/
johnconwayartist@gmail.com
Beyond The Beyond
In Casper David Friedrichs painting The Wanderer above the sea of fog, painted in 1818, a man stares out into a mountainous mist-spilled landscape. It is romantic and self-reflective, mysterious and sublime.
As a painter, these are qualities I try to evoke in my work. It is important that my paintings communicate a quality of mystery and otherworldliness while holding a familiar and terrestrial feeling. I return to the natural world for inspiration. Its beauty, and that fleeting moment when it reveals something to the viewer, gives me the themes in my work. It is these personal revelations that come from a place deep inside that I try to put on canvas.
So Many Worlds is the title of a recent painting installation of nine oil on MDF panels measuring 14cmx9cm each. This work is about metamorphic change, stages of the day or moments in the creation of the world. The work shows the artists interest in transformation, scale and repetition. Shapes and compositions suggest religious domes, tower like mountains, strangely high horizons, reflected views or ambiguous meetings between sky and earth. They are landscapes transformed by the spiritual code of colour to reinforce a sense of otherworldliness.
Born and raised in Sligo, I am now Dublin based artist having graduated from Limerick School of Art & Design (1997) and more recently from Dun Laoghaire Institute of Art, Design & Technology (2011). Recent exhibitions include RDS student Art Awards (RDS and Farmleigh, 2011), a Solo exhibition in Waterford City Library titled 'Wings' (2010) and Military Zones, a two-man show with Paul Woods in the Riverbank Arts Centre Newbridge (2010).
www.johnconwayartist.blogspot.com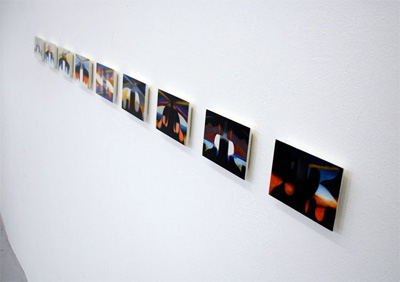 - So Many Worlds, 9 paintings measuring 14 x 9cm, Oil on MDF, 2011