Sarah Stevens
www.derelictireland.blogspot.com

About Sarah Stevens
Sarah Stevens is a visual artist working in the Sligo area since 2005. She obtained an honours degree in Fine Art from IADT-Dun Laoghaire in 2004 and an H-Dip in Art Education from LIT in 2005.
Sarah was awarded with studio space at the new Model Studios in Sligo in 2010. She exhibits her work both locally and nationally in group shows and open submissions. She has worked as Artist in Residence on various arts programmes and has given talks about her collaborative practice.
Sarah was awarded with bursary funding from Sligo Arts Service in 2008 and 2010. She was awarded with Research and Development funding from Create in 2006.
Sarah's first solo show Derelict Nation will open at Room: Model Studios Artists Gallery at The Model, Sligo in August 2011.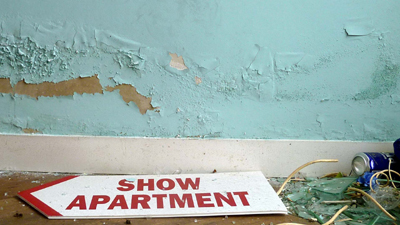 - Mill Apartments, Ballisodare
About the Derelict Nation project
My role as an artist is to be socially responsive. I am interested in the universal themes that link everybody; I am currently exploring themes of loss and aging. I see my practice as a mirror that reflects the world back to the audience. I like to show the public audience things that are right there, but may not always be obvious.

- Views from the Ledge 2
I began photographing derelict spaces around Ireland in 2007; recently this research became the Derelict Nation project. In this project I draw attention to derelict spaces through the Derelict Nation blog, through other internet sources, and through written media and exhibition. The aim of Derelict Nation is to photograph derelict spaces countrywide. So far this project has documented such spaces in Donegal, Mayo, Roscommon and most extensively in Sligo. I define a derelict space as any place that has been abandoned of its original purpose.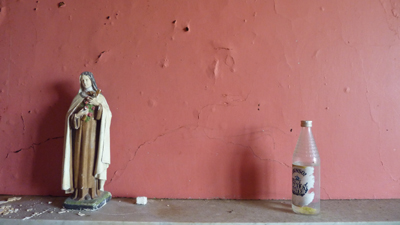 - The Barracks, Easkey
I document derelict spaces in order to honour their stories before their hidden histories are lost to us all. I am very interested in the interiors of spaces and the things that are left there. A toothbrush left in a glass, a biscuit tin containing milk tokens, family photographs on the mantelpiece. These objects evoke memories that are not mine; they are memories of lives once lived. These interiors are time capsules showing a way of living that will never be repeated. There is a Marie Celeste like quality about them that is both eerie and saddening.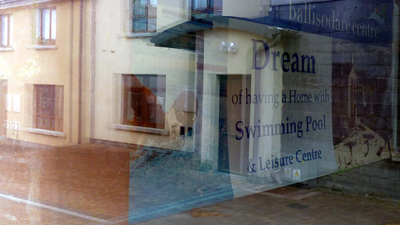 - Avena Ghost Estate, Ballisodare


Since the financial collapse in Ireland I increasingly photograph new derelict spaces. These spaces have never had the opportunity to fulfil their potential; there is a sense of lost possibilities as they too fall into inevitable decline.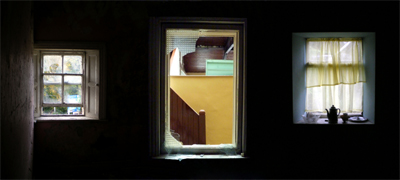 - Views from the Ledge 1

Part of my practice is to revisit derelict spaces and document how their stories continue. This is not a romantic tale. The gritty reality is that most of these spaces are still in use. They are ransacked for anything of any value and then used as a place to party and vandalise. These things I record without judgement, the photographs speak for themselves; the audience can make their own opinions from what I show them.
I am very interested in the relationship between derelict spaces and the world existing outside of them. These buildings become absorbed into our social landscape to the extent where they become almost invisible. Windows are the derelict buildings eyes to the world. The view through the derelict window has become a recurring theme in my work.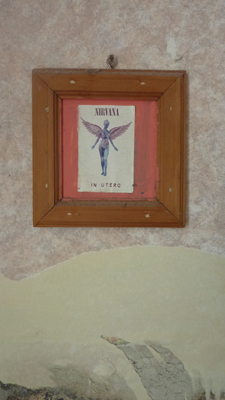 - O' Connors Hotel, Swinford


The Derelict Nation project is significant because it reminds of us our own mortality and makes us question what we value. We live in a material world, but we can't take our possessions with us when we leave. It is assumed that someone will care for the things we leave behind, but this is often not the case. Derelict spaces are a consequence of a throwaway culture that is too busy to treasure the small little memories that are all around.