Lisa Vandegrift Davala
http://www.lvandegriftdavala.com/
studio@lvandegriftdavala.com
L. VANDEGRIFT DAVALA merges her passions for hand made marks, the built environment, light, digital technology and medicine; making paintings, artist's books, digital environments and light installations. After working as a mural painter the American-born Irish National graduated from Tyler School of Art, Philadelphia with a B.F.A. in Painting, received the Vira Heinz Award for European Travel, studied at the Aegean School of Fine Art in Greece and received the Adolph and Esther Gottlieb Foundation Award.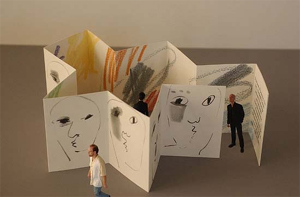 In Ireland, she began work with architectural space and was given an award by Dr. Patrick Hillery for Outstanding Contribution to Architecture and Design, studied Irish ancient monuments and exhibited at Gimpel Fils, London. She received the First Prize, Fenderesky Art Gallery Open Exhibition in Belfast.
Her works have been exhibited in England, Ireland, the former U.S.S.R., Slovenia and the U.S., and are in numerous collections, including The National Library of Ireland, The Berman Museum of Art, Philadelphia, The Victoria and Albert Museum, London, The Crayola Factory Museum, Pennsylvania, and MoMA, New York. A 12-year retrospective of her work was shown at the Philip and Muriel Berman Museum of Art.
L. Vandegrift Davala
Studio
Carrownagilta
Drumnacool
Co.Sligo
Ireland
Email: studio@lvandegriftdavala.com
www.lvandegriftdavala.com