Dorothee Kölle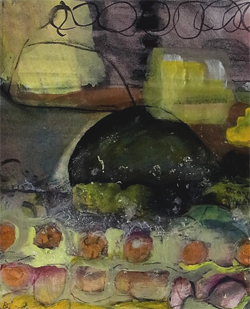 Sculpture, painting, drawing, mixed media, collage and assemblage are all forms used by Dorothee Kolle in her art practice.
A keen observant of nature and society Dorothee Kolle uses her perception of the world around her to express in figurative and abstract imagery her understanding of the volatility of human condition; she explores the tension existing between changes or permanence, between culture and nature, movement and stillness. She moves fluidly between art disciplines and her intuitive use of materials enriches the quality of her work.
In any of the disciplines Dorothee Kolle engages fully leaving traces of her different interests be it as a gardener, an ecologist, her music appreciation, her love for literature. This diversity of experiences are translated in often lyrical ways as visual and emotional spontaneous artistic expression through colours, shapes and lines. Her interest lies in questioning initial responses through a balancing reflective process. This leads to rearranging, reshaping, erasing and recreating and often leaving the artwork open as a moment in time. The artistic outcome is also shaped and influenced in a dialectic process by the innate qualities of used material.
Conscious how human experience can only perceive and understand fractions of the whole that transcend physical appearance, words and concepts, Dorothee Kolle strives to capture fragments of it in her personal perception as specific moments in the artistic process .
Biography
Born in Germany Dorothee Kölle moved to the Northwest of Ireland in 1990.
Her primary practice between 1990 and 2001 had been in sculpture using wood and stone. In 2005 she graduated with a BA Hons in Fine Art at the Sligo IT.
Since 1991 she exhibits regularly in Ireland in curated and invited group shows with Solo Shows in 2007, 2009, 2011, 2016 and 2019.
She received the Glebe Gallery Prize in 1997 awarded by Derek Hill and was awarded Artist in Residency 2005 Thyrone Guthrie Centre, 2006 LSC Manorhamilton and 2013/14 Visual Arts Residency Sligo.
Besides her artistic studio practice she facilitates creative participatory workshops in various group settings since 2006.