Mary Lee Murphy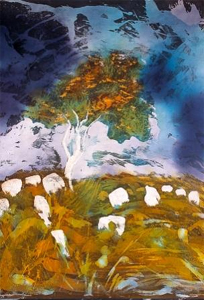 Mary Lee Murphy is one of Ireland's leading contemporary Batik artists. Mary was born in Waterford City and went to Sligo to study Fine Art, where she continues to work in her countryside studio.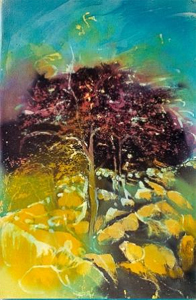 Mary works through the medium of wax resist and dye and has managed to transcend what is traditionally known as Batik. Through her experimentation over the years, she has moved away from the traditional techniques of Batik and created her own very unique style, both in the medium and in her work.
"Mary Lee Murphy has managed to move batik away from everything traditionally associated with it. Here is a confident, clear eyed quality of someone who knows exactly what she is doing."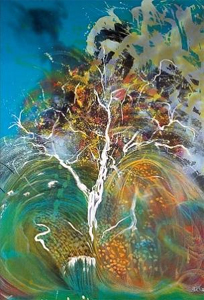 Review of Rattle Bag by Tom Widger Sunday Tribune.
The background to Mary's work involves drawing in the landscape both in Sligo and Connemara, both areas influencing her work greatly. Mary constantly moves between drawing and painting, gilding and textile and is as much out in the landscape as she is in her studio.
Mary's work has been widely acclaimed throughout Ireland, having exhibited in thirteen solo shows to date, and numerous group, open submission and invited exhibitions in Ireland and abroad.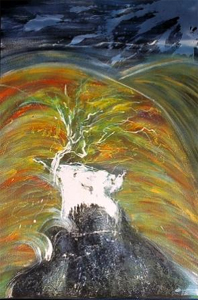 Her work is in many collections both in Ireland and abroad, her latest commission has been a series of works commissioned for new Church in Florida, USA, designed by American architect Michael Graves. Mary continues to educate people about her medium, and her work has been published in a textbook for schools. TG4 have recently made a short documentary of her at work in her studio and in the landscape.
Mary Lee Murphy