Michele Feeney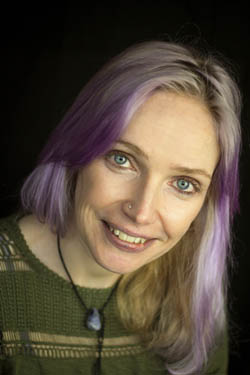 http://www.sligoweddingsinger.com/
michele@sligoweddingsinger.com
Michele is a singer songwriter from Sligo. She has spent the last number of years deeply immersed in Vocal Coaching. After extensively studying Vocal behaviour she created her "Sing your heart out" Vocal coaching workshops to allow people a glimpse into unlocking their potential voice through the use of the full body.
For five years she has been choir master of the Sligo Sings programme run by the Hawkswell Theatre. She has also directed the community choir, the Garda choir, the Abbott's choir along with many local groups including Rathcormac folk choir and the snowdrops dementia sing along choir.
She also worked with Music Generation Sligo directing Sligo Youth Voices choir and individual singing lessons through the Music Generation Sligo programme.
Michele has graced the stage for many years now, having been involved in Musical Theatre productions, her own performances at the Hawkswell theatre in 2018 and 2019 where is debuted some of her original material.
Michele is a professional singer and has carved a huge niche for herself in the wedding industry as her voice is so versatile, she can adapt any song to suit any situation.
She also teaches one to one singing lessons and piano lessons for all age groups.
When she is not writing music she is singing and playing piano, no stranger to theatre she has a wealth of experience in Stage management, Technical management and production.
She admits that her passion for teaching her singing workshops has grown extensively over the last number of years, blossoming into areas of social clubs in workplaces and singing therapy for those in need.
Music is life and we all have music in us!
You can find Micheles' music which was self recorded and produced on Spotify and itunes where she has a collection of singles for you to hear.
If you would like to get in touch with Michele for singing lessons one to one or group you can contact michele@sligoweddingsinger.com