Felip Carbonell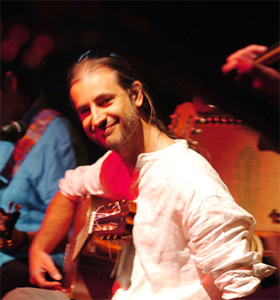 Felip Carbonell was born into a musical family. His parents met in the 50's in a Mallorcan traditional ensemble where his mother was a dancer and his father played the bandúrria, a 12 string instrument, similar to the middle-eastern oud. As a child, Felip was always exposed to music of all kinds but it was not until his father brought him and his older brother to see a concert by the Valencian political singer/songwriter Raimon that Felip found his calling. He was 9 years of age and at this early stage he became conscious of the political situation of his country. Mallorca and the rest of Spain were going through the political transition from dictatorship to democracy. He still remembers very clearly having to abandon the concert in the middle of it and running through the streets of Palma to escape from the policemen batons; all because Raimon sang one of the songs blacklisted by censorship. Shortly after that he got his first guitar and started learning music, playing, singing, and following musical and political movements against the dictatorship of General Franco. Three years later he started writing songs in his native Catalan language, influenced mainly by political singer songwriters such as Raimon, Lluís Llach and Quico Pi de la Serra from Catalonia, and Victor Jara from Chile.
At the age of 19, Felip made his debut as a solo performer in front of the audience of Bar Terra in Palma, an alternative music venue in the city. After this successful first experience he formed his first band -Camamil.la- along with percussionist Toni Amengual and vocalist Cati Llull. With Camamil.la he toured all over the island of Mallorca melting Latin and Salsa rhythms with Felip's own lyrics and compositions and taking part in some of the most relevant local festivals of the time. From this start he moved up the music scene in Spain, founding several successful bands and writing Fer Cantó, -an urban poem about drugs and prostitution that received extensive airplay all across Spain. Another of his songs Païs de la Felicitat was also included in a Spanish compilation album and released by AZ Records in Barcelona
In 1998 Felip left Mallorca and moved to Sligo where he started working as manager of traditional band Dervish. Since coming to Sligo Felip has delivered a hugely successful series of concerts based on Els Ritmes de la Mar (The Rhythms of the Sea) at the Factory and the Model Arts Centre, a concert that aims to prove that tradition and culture is still alive in Mallorca despite the tourist invasion of the island. Felip also plays in a number of local jazz and Latin music ensembles.
"Music is not a hobby or a job, it's a passion."
Felip Carbonell