Michael Nielsen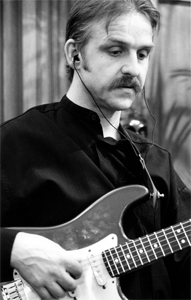 http://www.mikenielsenmusic.com/

Jazz Guitarist/Composer Michael Nielsen was born in Sligo. In 1979 he studied classical guitar and music theory with Niels Krogsbøll in Denmark. Returning to Ireland he continued his studies at the Royal Irish Academy of Music and the College of Music, Dublin. Michael won a scholarship and Jim Hall incentive award in 1982 to attend Berklee College of Music, Boston, where he studied from '83-'85. He holds a classical performance diploma, LTCL (Licentiate of Trinity College of Music, London) and a Masters degree, MPhil, in music and physics from the DIT School of Physics, Dublin.
Michael has gained a reputation as one of the leading guitarists in European jazz. He has performed with international artists including; Kenny Wheeler, Larry Coryell, Kenny Werner, Joe Lovano and Dave Liebman with whom he toured Europe and New Zealand/Australia. Michael also performs regularly with the RTE Concert Orchestra.
Michael is a prolific composer recent commissions include a guitar quartet by The University of Ulster. Over twenty original compositions have been recorded. He features on over fifteen recordings including two with Dave Liebman. Michael's new CD 'Sound Recipes' received a maximum of 5 stars in a recent review.
He currently teaches in Dublin at the DIT Conservatory of Music and Drama, Newpark Music Centre and Bray VEC Music Centre, Wicklow.