Mai Hernon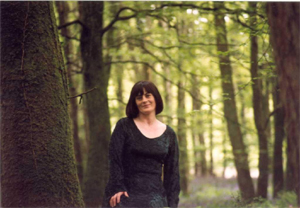 Cornacartha,
Corrigeenroe,
Boyle,
Co. Roscommon

071 9666975 /
087 6167580

Mai Hernon was born in the heart of Coleman County, Gurteen, Co Sligo. It is the birthplace of Michael Coleman, a rich hamlet of Irish culture where singers, Flautists and fiddlers like Peter Horan, Fred Finn, Seamus Tansey, abound.
Mai grew up in a traditional musical family. To her it was part of life, just like the landscape she grew up with. As a teenager she would visit fleadhs and feisanna where her love of Irish music and culture continued to develop.
She soaked it all up and she became an accomplished set-dancer. She was dancing sets with the local men and women, when she was a child, and she attended workshops given by Connie Ryan at Tubbercurry when she was much older, which she enjoyed. Conny Ryan told her that she "was a great set-dancer". However a back injury prompted her retirement from set dancing for a number of years. It was then that Mai discovered a new talent, her singing voice.
This discovery was made by Colm O'Donnell at the Tubbercurry South Sligo Summer School. Mai attended the summer school at which Colm invited her to sing for the class. Before this Mai always sung at home for her children and her own amusement. People were knocked out and moved by her extraordinary voice. Cathy Jordan from Dervish became a supporter and friend and with her encouragement, Mai made her debut stage performance as a featured singer at the 1998 Tubbercurry summer school.
In 1999 Mai was invited to host the singing classes and to lead the workshops at the summer school. Her workshops became very popular. Mai continued to develop this new talent. She used the roots of traditional music found in the Gurteen area. These were the kind of songs she could throw herself into and bring forth an emotional depth unheard elsewhere. Alongside this tradition people continued to give her songs and soon Mai was hearing recordings by Dick Gaughan, Sandy Denny and Andy Stewart. However her first love was traditional unaccompanied songs.
Mai recorded her first album "Peace in Erin" in 1999, which is a stunning debut album. Mai's rich strong and melodic voice breathes new life into a collection of narrative ballads drawn from both traditional and contemporary sources. The focus is placed firmly on the voice and the song, with minimal musical accompaniment. Mai's voice is a rich and wonderful, a voice that is dark, tender and extremely passionate, yet devoid of overkill.
Her attitude to her material is refreshingly honest and short on cliche. Mai's talent lies in her ability to place herself within the context of the story and thus she becomes a storyteller and the song becomes real and vibrant. It is never strained of forced, and never loses its real meaning. Mai has just finished recording her second album which will be released in the summer of 2006.
For workshops and concerts, of folk clubs please contact Mai at:
Mai Hernon, Cornacartha, Corrigeenroe, Boyle Co Roscommon.
Phone no: 071 9666975 / 087 6167580