Eddie Lee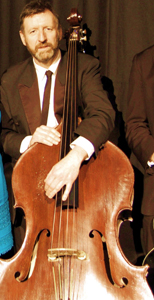 Bassist/Performer:
Eddie Lee has, since in the past three decades, recorded and/or performed with Enya, Bill Whelan, Donal Lunny, Juliet Turner, Gary O' Brian, Colm O'Donnell, Seamie O' Dowd, Those Nervous Animals, Auto da Fé, Stockton's Wing, Katell Keineg, Nine Wassies from Bainne, The Pale, Maura O' Connell, Speranza, Dolores Keane, Kieran Goss, John Faulkner, Frances Black, Speranza, Brian Kennedy, Dervish and Café Orchestra. An electric bassist since the age of 17, Eddie studied double bass during mid 1990's. He studied jazz theory with Mike Nielsen in Dublin and since then has grown in status on the upright, playing with many of Ireland's leading jazz musicians such as Mike Nielsen, Louis Stewart, Richie Buckley, Michael Buckley, Gay McIntyre, Phil Ware and David Lyttle and guesting with eminent European jazz artists Sandro Gibellini and Bjorn Solli.
Eddie, since co-founding the Sligo based folk-world music group NoCrows in 2005, has toured Ireland, Switzerland, Germany, UK, Mallorca and Belgium with the group and played several major European festivals including Glastonbury Festival UK, Dranouter and Labadoux, Belgium.
2010: Currently bassist with jazz trio The Odd Couple, jazz/soul outfit The Swing and Soul Revue, and folk-world music group NoCrows.
Composer/Arranger:
Eddie was co-writer/arranger with Those Nervous Animals (1980's), The Pale, The Good Zoo, Susan Rowland and Padraig Meehan & McKenzie (1990's). Eddie is composer and co-arranger of many compositions in NoCrows' repertoire. NoCrows' second CD Magpie was awarded 4 stars in Irish Times review, 2008. 2010 will see the release of noCrows third CD.
Producer:
Co Producer of NoCrows material. Produced "Show me that Chihuahua" by Sligo group Indian and co-produced many recordings by Those Nervous Animals, McKenzie, Ellamental and the Odd Couple.
Music Educator:
20 years experience teaching bass, theory and more recently jazz performance. Eddie, along with his colleagues in The Odd Couple, has given many music workshops, including the "Live Music in the Classroom" series run by the Sligo Music Education Partnership.
Eddie established Sligo Contemporary Music School with colleague Ken McDonald in 2007, specialising in teaching the Trinity College London accredited Rockshool ™ syllabus.
Administrator:
Sligo Jazz Project, 2005 to present: Helped run the largest ever jazz education event held in Ireland: Sligo Jazz Project 2007, with a faculty of 10 and 100 student participants from 14 countries. SJP's annual summer school has a growing reputation as one of Europe's finest jazz education events www.sligojazzproject.com
Contact Info :
Eddie Lee mobile 087 9249282
Sligo Jazz Project Office: +353 71 9157862
Email: eddie@sligojazz.ie
Web: www.sligojazzproject.com www.myspace.com/sligobass www.nocrows.net www.theoddcouple.ie