Bill Stewart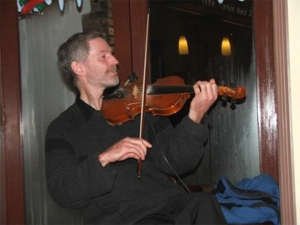 http://www.bill-stewart.org.uk/

Bill Stewart is a jazz violinist from Scotland. After studying classical music at the Royal Scottish Academy of Music and Drama in Glasgow he had a wide and varied career as a classical violinist, touring the world with the famous Stuttgarter Kammer Orchester.
Since taking up jazz violin in 2002 he has played with a variety of artists, mainly in Ireland where he now lives. He is a founding member of "KLAZZ", and "FIDDLE TREE" with Steve Wickham and Seamie O'Dowd.
Bill is also currently playing with "Café Gitane", a duo with Karl Burthom on Guitar playing Gypsy Swing, Jazz Standards and own compositions.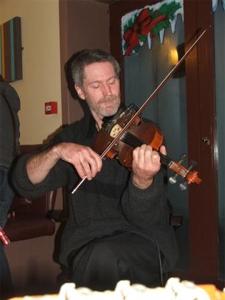 Bill started classical violin at the age of ten. After winning first prize in the Scottish Central Counties Music Festival in 1970, 1971, 1972 and first prize in the Glasgow Music Festival in 1973, he won the McFarlane scholarship to attend the Royal Scottish Academy of Music in Glasgow at the age of fourteen. While at the Academy he won the first prize in the Robert Highgate Scholarship for violin in 1975, and went on to play with the Scottish Chamber Orchestra, BBC Scotland, Scottish Opera, Scottish Baroque Ensemble, Virtuosi Scotland, and at 19 toured Britain as leader of the Scottish Ballet Orchestra. At the age of 21 Bill left Scotland to take a position as leader of the Passau State Opera Orchestra in Germany before joining the world famous Stuttgart Chamber Orchestra under the direction of Herr. Prof. Karl Munchinger.
By the time he was twenty-six, and as a member of the Stuttgart Chamber Orchestra Quartet, he had played in some of the most famous concert halls in the world, including Carnegie Hall and the Lincoln Center in New York.
Bill gave up playing the violin at 26. After 10 years of programming computers in Switzerland, he stared playing fiddle again, first playing Scottish Traditional music in Edinburgh, then after a move to Sligo, jazz violin. With this he has found a new musical expression., blending influences from his traditional Scottish up-bringing, classical music, and love of Eastern-European fiddle music.
After many solo concerts, and support for, among others, Nikki Sudden, and Hazel O'Conner at the "Left Bank", and playing with local groups like the Jazz Lads and Ellamental, he formed the Klazz with whom he played at the Derry Jazz Festival.
He is also playing in "Café Gitane", a duo with Karl Burthom. This duo have a wide repetoire of standard jazz titles, swing jazz, gypsy jazz and original compositions all played in unique arrangements by the duo.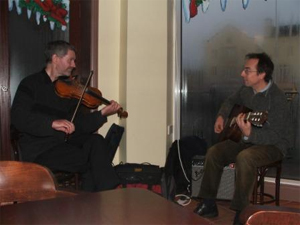 Bill is also a member of The Fiddle Tree with Seamie O'Dowd and Steve Wickham.
Café Gitane (Bill Stewart and Karl Burthom) play every Thursday, Friday and Saturday evenings at 7.30 in the new Tobergal Lane Cafe, Sligo and also on Sundays at 12 noon.