Cadenza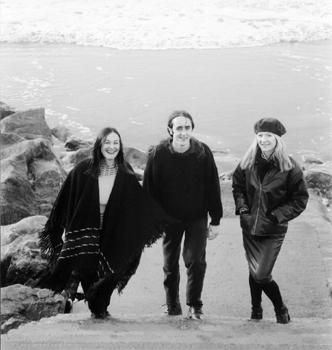 CADENZA followers in Sligo will remember their launch concert at the Model Niland Centre, where Deirdre Byron-Smith, Anna Houston and Ray Coen played to a packed house.
As a live act, CADENZA are a musical experience not to be missed, displaying originality, versatility, raw energy and virtuosity on a broad range of instruments. Singer/songwriter Deirdre Byron-Smith adds the icing on the cake with stunning vocals.
Cadenza's music is mostly original material written by Deirdre and Anna, spiced up with both Traditional tunes and their own instrumental compositions. However, Traditional music is but one aspect of Cadenza's wide and varied span of influences. Equally present is a healthy dose of contemporary folk, blues and world music.
Their new album "Attic Notes" is a tuneful collection of songs and airs. Siobhan Long (The Irish Times) recently wrote: "Sligo's Cadenza are a trio whose identity is forged by a scaffold of cello, harp, mandolin and banjo – not exactly a colour-by-numbers combination of instruments, and Cadenza wisely flee far from any hint of predictable tunesmithery. Second album out, harpist and vocalist Deirdre Byron-Smith and multi-instrumentalist Anna Houston cut a far more confident duo, joined this time round by singer\songwriter Ray coen on guitar, bass, fiddle and vocals. Harp and cello step in and out of the shadows in surprisingly compatible patterns, with subtle accompaniment from Steve Wickham. Echoes of Django Reinhardt permeate the gypsy-fuelled Cool Custard – Angel's Delight but Cadenza's heart beats to a more classical rhythm."
The Band are currently planning a tour of double gigs with Steve Wickham, who will perform his own original material with the band.