Wayne O'Connor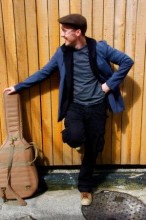 Having picked up the guitar just after his college years, Wayne began writing his own music and showcasing it in various open mikes before pushing it further with the release of an EP entitled "Drawing Lines" in 2007, playing to a capacity crowd in the Black Box in Sligo. His music has continued to grow with other musicians now joining him frequently, in August 2008 playing another very successful gig in the Factory Performance Space.
With influences from all areas from alternative to rock to country and more Wayne continues to develop and hone his sound. He has also begun heightening his profile through supports to artists such as Damien Dempsey, John Spillane, Mundy, Luan Parle and more and playing in venues all over Ireland.
He is also currently the lead singer of Sligo band, The Red Hots.
Contact Details:
Email: pyramidlagota@gmail.com
M: 086-8484444