Conway Sisters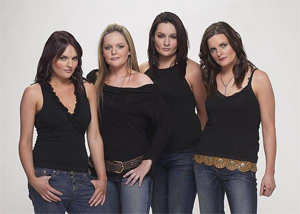 As well as being sisters, Laura, Marie, Sharon and Sinead also share an immense love for music, so much so that in 2002 the sisters decided to combine their immense talent for singing and prolific music composition skills to form "THE CONWAY SISTERS". Since 2002 they have worked tirelessly and produced some of the best original music to come out of Ireland in a long time.
Releasing their top 20 Debut Single "WHAT DO YOU DO?" started the girls on a major whirlwind adventure and launched them into the public eye. Since 2002 the girls have toured Ireland on many occasions thrilling people both young and old with their own music. To their credit the girls now have another two top chart singles, "NOW THAT IT'S OVER" and "MISS YOU" as well as their Debut Album "WAITING FOR YOU".
The Conways who hail from Sligo, have recently played support slots with Top Pop Acts as well as having popped up on numerous radio and TV shows both at home and abroad. More recently, the girls have spent valuable time in London with producer Simon Hill.
Now, they're ready to take on the world. All their music is written by the girls and has being produced by Simon Hill, who has worked with calibre acts such as Kylie Minogue, Seal , Natalie Imbruglia and Natasha Bedingfield.