Jim Meehan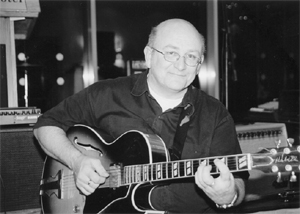 Originally from Drumcliff in North County Sligo, Jim's musical interests span Irish Traditional Music, African Caribbean Music, and Modern Jazz. His playing is mainly influenced by music of Wes Montgomery and Kenny Burrell, and he has participated in workshops with guitar-greats such as Louis Stewart, Gene Bertonani, Howard Alden and Jimmy Bruno.
Some of his most exciting musical moments include meeting with and recording the legendary Donegal fiddler John Doherty, and playing on stage with the great Dutch guitarist Jan Akkerman.
Jim has been the soul behind some of the most interesting music projects in the Sligo region in the last few years. Not only a beautiful musical perspective, but he also has the ability to put together people and make things possible for the musical spark to happen. There are several examples of this, amongst them the bluegrass outfit Slippery Fish, featuring Waterboys' fiddle player Steve Wickham and Jim's first band with Felip, The Courthouse Criminals.
Jim has a continuing career as a management consultant, having worked at senior levels with American Multi-National industry in the areas of corporate finance, operations and business development