Joanne Mitchell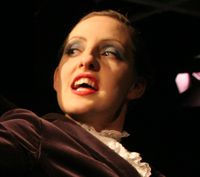 http://www.mangiaretheatre.com/
joannemgmitchell@eircom.net
How one man can fulfill three women…
Verdict: real star quality

The fertile imaginations of three different generations of adoring women at a Sligo school are played out by Joanne Mitchell, who also penned this playfully confrontational parody of female romantic enslavement.
Mitchell does all three with magnificent gusto, takng each to the peak of their obsession and achieving moments of real poignancy and mania.
As far as this 50-minute dramatic composition goes: full marks for Ms Mitchell's attitde, confidence, verve and wit. I can't wait to see her next piece of homework.
Daily Mail, Friday, March 9th.
Living with Johnny Depp is running at Bewley's Café theatre everyday at 1.00pm until St Patrick's Day
Performance including:
Popova in The Bear
Dir. Daragh McKeown
Irish Film Centre, Dublin
Dublin Fringe Festival
Her in A Play on Two Chairs
Dir. Daragh McKeown
Hawkswell Theatre, Sligo
Town Hall Studio, Galway
Lady Bates in Lord and Lady Bates and their Son Master Bates (clown)
Dir. Alexander Kipp
Hawkswell Theatre, Sligo
Elizabeth and Ellen in The Land War and The Duel
Dir. Claire-Louise Bennet
Loughrea Town Hall, Galway

Theatre Experience including:
Stage Manager
Dir. Niall Henry
Blue Raincoat Theatre Co.
Director: Mac Scaidin agus an Pota Draíochta
Cumann Drámaíochta
NUIG
Director: Nuair a Thit an Spéir
Cumann Drámaíochta
NUIG
Training
École Internationale de Théâtre Jacques Lecoq 2004-2006
Feldenkrais: Awareness through Movement 2004-present
Gaiety School of Acting, 2003-2004
Workshop with Mr. Masaru Sekine in classical Noh (Shimai) Movement
Workshop with SITI Company in Viewpoints and Suzuki
Awards & Scholarships
2005 Arts Council Training and Development Award
2002 Gradam Léiritheoireachta (Best Director) - National Universities Competition
1997 National Rotary Club Scholarship – Yeats Poetry Recitation
Languages & Skills
Fluent Irish, French and German
Leinster School of Speech and Drama Associate Diploma 2003
Full Clean Driving Licence
Surfing, Swimming and Horse Riding
For more infoamtion contact: joannemgmitchell@eircom.net
www.mangiaretheatre.com