Kellie Hughes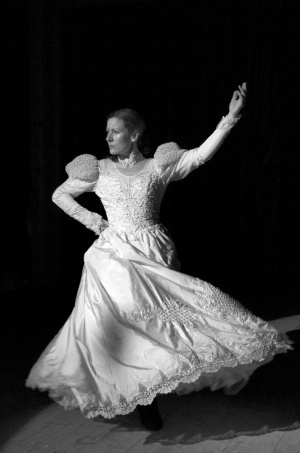 Initially trained in dance, Kellie performed in the World Tour of Riverdance-The Show in 1996/97 before graduating from University of Ulster, Coleraine in 2000 with BA first class honours in Theatre and History. She then completed an MA in physical theatre at Royal Holloway, University of London. Kellie spent over three years training with Corinne Soum and Steve Wasson, last assistants of Etienne Decroux and directors of the Theatre de L'Ange Fou and the Ecole de Mime Corporel Dramatique. During this time Kellie also created and performed three shows for the Science Museum London; Art, Science & the Moving Body, Opti Music and The Brain and the Body (Televised B.B.C. 2005).
In 2004 Kellie returned to Ireland and performed in Blue Raincoat Theatre Company's international showcase of The Strange Voyage of Donald Crowhurst and consequently spent the next seven years as a member of the company. Kellie performed extensively with Blue Raincoat during this time, touring nationally and internationally.
Alongside her performance work Kellie has been involved with other aspects of Blue Raincoat's development. In 2005 Kellie became training manager for Blue Raincoat and initiated both in-house and external training initiatives for members of the company and third level institutions whilst also providing workshops nationally and internationally. In 2007 Kellie became project manager of Blue Raincoat's Theatre Resource Project. This initiative developed an on-site library and archive facility specialising in European theatre and actor training, an annual lecture workshop series and a mobile theatre touring initiative which toured two shows directed by Kellie to regional venues in autumn 2009 and 2010 (The Cat and the Moon and A Brief Taste of Lightening). Kellie directed Blue Raincoat's W.B. Yeats Project which opened with The Cat and the Moon in 2009 followed by At the Hawk's Well in 2010.
Kellie has been a guest lecturer with Queen's University Belfast, University of Ulster Magee and Trinity College Dublin and currently teaches both undergraduate and post-graduate modules in N.U.I. Galway and I.T. Sligo. Continuing her commitment to ongoing training, Kellie takes part in yearly intensive vocal training with David Goldsworthy of the Roy Hart International Voice Centre Malaragues and enjoys a continued association with fellow graduates of the Ecole de Mime Corporel London and current directors of Moveo - International School of Mime Barcelona, Stefan Levy and Sophie Kasser.