John Rogers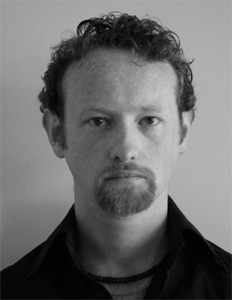 http://johnmrogers.co.nr
johnmartinrogers@gmail.com

+353 (0)87 2879131
John Rogers is an actor from Mohill in County Leitrim. John's acting credits to date include in 2007, The Crucible at The Factory, Sligo; in 2006, Plus ça Change at the Black Box IT Sligo; in 2005, Frank Pig Says Hello at The Factory & Dublin Fringe Festival; in 2004 A Song Of Solomon at the Black Box, The Field and A Streetcar Named Desire at the Hawk's Well, Sligo; in 2003 The Leader at the Black Box and The Year Of The Hiker at the Hawk's Well; and in 2002 Knock Doubt at the Model::Niland Gallery.
John is a co-founder of Playspace – a drama studio in Sligo, he co-produced The Vagina Monologues at IT Sligo, he has participated in training workshops run by Niall Henry of Blue Raincoat and he was a panel member of the Drama Advisory Project initiated by Sligo Arts Office.
John has worked with local filmmaker Rory O Kelly on two short movies – An Artist's Perspective (2007) and It Came From A Skip (2005) which was featured on RTÉ.
Reviews for Frank Pig Says Hello
Bob Kelly and John Rogers are an unnerving duo as the schizophrenic youth
- Irish Times review, Sarah Keating, September 2005
The two actors (Bob Kelly and John Rogers) use skilful energy and a series of well-devised, snapshot characterisations to sketch the boy's murky, disturbing world.
- Irish Theatre Magazine review, Tanya Dean, September 2005
The performances of the two actors, between them playing a Cecil B De Mille cast, are as fine as I have seen on any stage anywhere.
- Pat McCabe, author and playwright
Check out John's website - http://johnmrogers.co.nr
Check out Playspace - http://playspace.myfastforum.org