Nichola MacEvilly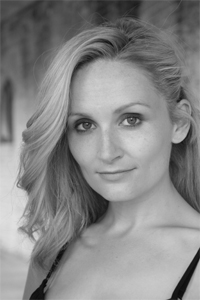 http://www.spotlight.com/2010-5647-2283

Nichola grew up in Sligo town. She trained as an actress at Rose Bruford College London, and then completed her MA in Performance & The City at Central School of Speech and Drama.

She has worked extensively in theatre and film, both as an actress and producer. She is a founding member of The Avenue Theatre Company in London, best known for producing Midsummer Night's Dream and Hansel & Gretel in The Secret Garden in Greenwich Royal Gardens.

With Gaffa Cake Films Nichola has performed and produced Just One Thing (BAFTA nominated), The Invisible Atomic Monsters from Mars and The Lonely Tree (BAFTA nominated).

Other credits in TV and film include, Gallow Hill House, Runner, We've Got Balls, One Missed Call, Revenant, Talk To Me (BBC), The Bill (Thames Television), Feel the Force, The Gift, Lord of Pain, and The Good Shepherd. Her skills in mask work were used by James Vincent McMorrow in his video Sparrow & The Wolf winner of IMTV Best Male Video 2011.

Favourite theatre credits include The Poor Mouth (Blue Raincoat Theatre Company) All Hell Lay Beneath (Sugarglass) Rhinoceros (Blue Raincoat Theatre Company) The Way of Water (English Theatre Berlin) The Applicant (Sheer Tantrum) Iphigenia In Aulis (Project Arts),Peaches, Othello, The Seagull, TitusAndronicus, Tartuffe, St.Joan of the Stockyards, The Country Wife, Twelfth Night, After Easter, TheLights, Yeats by Candlelight, The Princess & The Gypsy Boy (Marlowe Canterbury), Real Dreams (BAC), 167 Hours (Birmingham NIA).

In 2013 Nichola became and associate artist with dance company Hereinafter. In the autumn of 2013 Nichola will return to Blue Raincoat Theatre Company for the world premier of Yuri by Jocelyn Clarke, based on the life of the first man in space, the Russian cosmonaut Yuri Gagarin.

Nichola is based between Sligo, Dublin and London. Contact Frontline Actors Dublin.