'Returning' an exhibition by artists Laura Gallagher, Maura Gilligan, Dorothee Kolle and Stephen Rennicks.
The four person exhibition 'Returning' at the Hyde Bridge Gallery was the outcome of the Sligo Arts Service, Arts + Health Bursary project 2020. Due to Covid restrictions the creative sessions' segment of the projects with older people could not go ahead. Working around Covid restrictions the exhibition was open to the public during October and December. The exhibition also went online and was available to be viewed via the Hyde Bridge Gallery and the Sligo Arts Service facebook pages.
The project was funded by Sligo County Council, HSE West and the Arts Council of Ireland.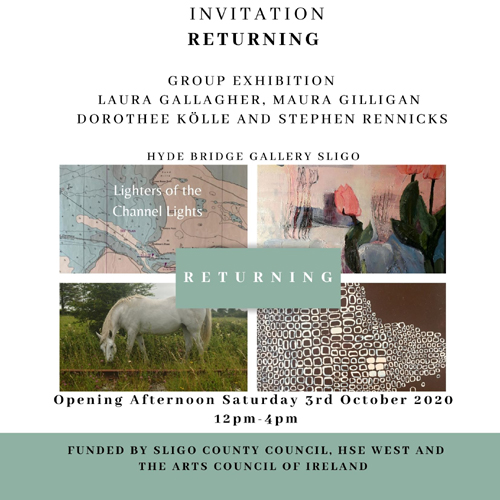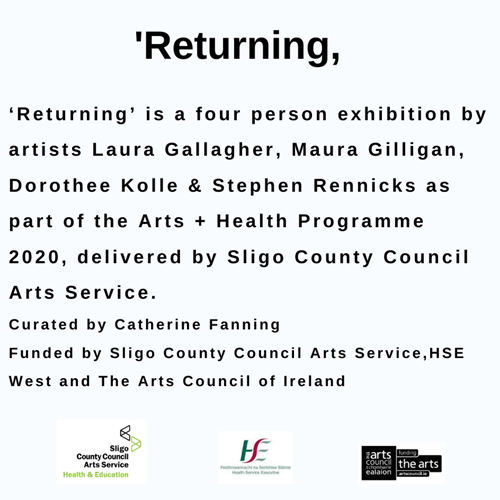 Laura Gallagher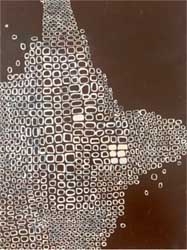 The title of this exhibition 'Returning' resonates with me not only in relation to the idea of returning to an old tradition but also returning again to the outside world and to my painting practice after along period away. I've been reflecting from a present day perspective on how traditions are related to time and memory and have a tendency to re-emerge. In this case this series of abstract paintings originated as a result of being contained within a domestic setting for a long period.
Interior aesthetics seeped into my consciousness and I began to look at the reemerging interest in wallpaper. For centuries, wall coverings have enabled the construction of new realities inside homes. A tradition that has once again become hugely popular in contemporary interiors, wallpapered backdrops are transient items of décor that can reflect time back at us.Familiar interiors offer a comforting backdrop of shared existence, a connectedness, at times bound up with a sense of both loss and remembrance.
Immersing myself in repetitive shapes and patterns became a loose starting point from which to feel my way back to a practice of painting and to tentatively connect again with the outside world. Domestic in scale, multiple shapes and repetitive lines provide comfort in their predictability and consistency while also reflecting a struggle with the act of making. Composed in tandem with the struggle of living isolated in an unpredictable world and infused with a sense of feeling part of something bigger, feeling towards the edge of something, with a need to create order out of something chaotic.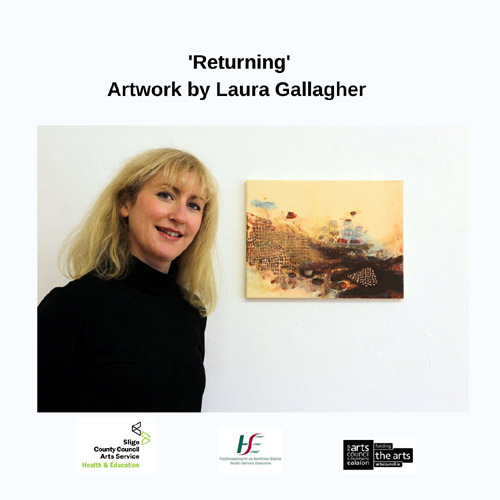 Maura Gilligan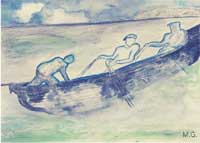 I am a writer, poet and community arts facilitator. Working through story, song, and performance, I have brought my own words and the stories of others to a wide audience – live,on radio and in film shorts.
This exhibition was to be informed and inspired by creative contacts with older people attending day care centres around County Sligo. The universe had another plan, however, and far from being in regular creative contact , we all had to return to our homes, and to ourselves.
For my part, I began making a song of the sea, closely related to the North Sligo coast where my residency was to be located. I wrote and re-wrote, composed a melody, made a wish list of dream musicians and listened in awe as they gave voice and movement and magic to my song. You will hear them perform Lighters of the Channel Lights on DVD here in the gallery.
The second aspect of my work is contained in the writings you see around us, again connecting the Maugherow Peninsula with Sligo Harbour. The search for a Maugherow Sea Pilot in times when it was impossible to meet older people of the district, was almost in vain, but in that search I discovered his companion. Carrigans Health Centre was to be the location of my residency. Next door to the Health Centre stands the old Carrigans National School – and ironically it was through two former pupils of Carrigans National School one twenty years younger than the other, that I eventually found my inspiration for writing about this area. And so I returned to the hinterland where I had
worked so happily with the Maugherow Intergenerational Project, I returned to the format I love most – bringing local tales to life through word and song, and I returned to the Atlantic, the heartbeat of all my writings.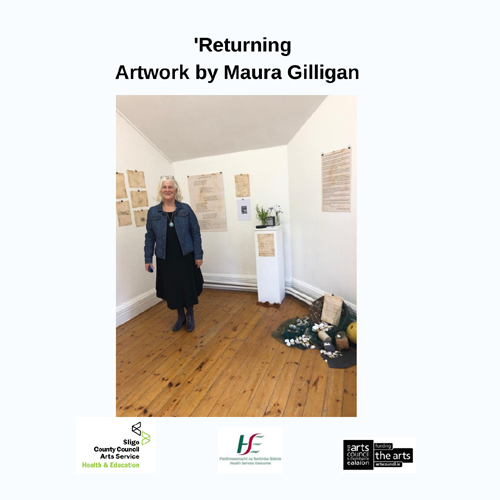 Dorothee Kölle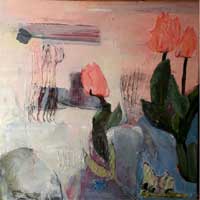 Sculpture, painting, drawing, mixed media, collage and assemblage are all forms used in my art practice. My primary practice between 1990 and 2001 was in sculpture using wood and stone.
In 2005 I graduated with a BA Hons in Fine Art at the Sligo IT.
My work during the last months is about the past and possible future in relation to the immediate environment. Being confined during the lockdown to the garden and walks in my local area, I experienced the slowing down as somehow regenerative and meditative- a breathing space to take in more closely plants around me and in particular looking at beneficial wildflowers and herbs for biodiversity, interaction between plants, insects and birds and their medicinal and culinary use in old time knowledge and uses.
The lockdown gave rise in society to questions about environmental damages, sustainability and self sufficiency. It deepened my interest in permaculture and to strengthen my connection to nature around me. The artistic exploration in response developed in a three way cross thinking, seeing and expression in media. The sense of the exploding colourful power of flowers and plants in spring I tried to capture in paintings. Drawing gave me the space and time to look closely at so called "weeds" in former times widely used as beneficial herbs. A very tactile sense of nature was also experienced in exploring a new technique- Japanese woodcut.The "otherness" and particular constrains led to very new experiences and often struggles to give way to a different way of seeing and thinking. To master this technique fully will take much more time, but the exploration of something new is a great"teacher". Comparatively changes in nature and society will take time and careful consideration, but hopefully new developments will happen to save the environment.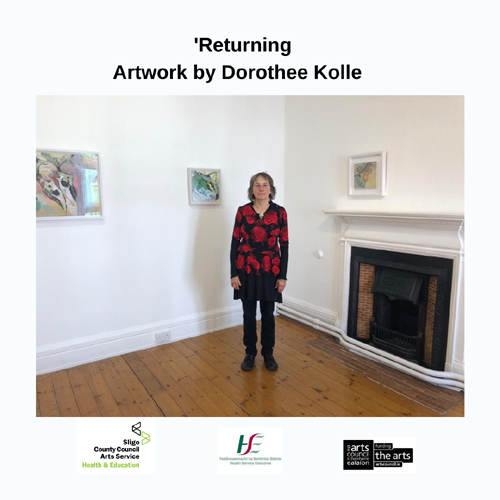 Stephen Rennicks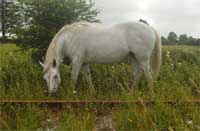 I qualified in Healthcare Support in 2017 and since then have been working full-time as a carer/PA for a home-care company alongside my creative practice. My carer position entails making visits to people with disabilities and healthcare needs. My duties can include helping clients getting up, personal care, dressing, feeding, light housework and putting them to bed.
This is the second year I was invited to take part in the Sligo Co. Co. Arts Service Arts & Health exhibition and I decided to use one of my photographs from last year's work as my starting point. One of my clients had suggested I explore the disused and largely overgrown Collooney to Claremorris railway line (Western Rail Corridor) and in particular search for a river spanning metal bridge. This intrigued me and began my process of exploring the whole line from Collooney to currently just past Tubbercurry (approx 23 miles). This has given my client and I something of mutual interest to talk about on my visits.
The railway line was first opened in 1895 and closed in 1975. There is a local plan to turn it into a greenway and in 2020 some initial development funding has been granted. To help this effort and raise awareness of the project, since 2019 I have been sharing the photographs of my progress along the line on social media. If the route could be turned into a greenway, this would directly benefit my client as he could safely access this route by wheelchair and be a real gamechanger regarding their independence. Of course it would also benefit all those who live locally and in the north-west as well as bringing tourists and prosperity for local businesses.
The title of my project work 'Future Greenway' refers to my hopes for its future use and how it has already become a greenway in a sense, nature quickly takes over all of our abandoned or neglected sites. It strikes me that if we don't begin to respect and find a way to live in harmony with nature, the ultimate future for our whole planet will be a greening that we will sadly never get to witness.
Walking the line, even in its overgrown state has left me feeling reconnected with nature and the seasons. I am always blown away by the spectacular views and the quiet of places far from the road. While there are stretches that are quite clear, in some places it is something of a challenge and adventure.
I hope someday soon the public can reclaim this natural resource. Until then, the line and nature itself will continue to await us.