HE+ART A Participatory Arts and Health Strategy for Sligo 2007-2012

Arts and Health Strategy for Sligo is launched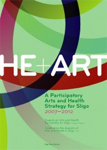 Towards an Arts and Health Partnership in Sligo Research Report was unveiled alongside a five year strategic plan for arts and health HE+ART A Participatory Arts and Health Strategy for Sligo 2007-2012 by Minister Devins on behalf of Sligo Arts Service of Sligo County Council.
Present at the launch were, amoung others, Cathaoirleach Councillor Seamus Kilgannon, Councillor Jonathan McGoldrick Mayor of Sligo, Hubert Kearns County Manager, Mary McAuliffe County Sligo Arts Officer, Monica Corcoran Head of Local Arts in the Arts Council, Cara O'Neill of HSE West along with Orla Moloney Report reseacher.
The background to the publication of Sligo Arts+Health Strategy 2007-2012 is Sligo Arts Service's long term process to encourage a policy based strategic approach to arts and health in Sligo. The initial impetus for this initiative derived from the Maugherow Project, which was established in 1998 to examine the possibilities of developing a social model of health through the arts.
The Health Service Executive (HSE) has been a committed and active partner in this process, and a key development was the formation of the Sligo Arts and Health Steering Group in 2003. This Group coalesced the efforts of the various health disciplines in the areas of health promotion, mental health services and social inclusion.
The strategy has two key aims:
To increase levels of access and participation in high quality participative arts and health programmes, and to establish effective structures, supports and services that will promote the value of arts and health.

The delivery of the objectives identified in the plan will enhance best practice, inform planning and policy and meet existing and emerging needs in the arts sector.

Members of the Arts and Health Steering Group, most of whom were present at the launch are:
Marie Louise Blaney, Arts Sector - Model Arts and Niland Gallery;
Sarah Bronkhurst, Social Inclusion Measures Committee (Clasp);
Geraldine Delorey, Health Promotion HSE;
Catherine Devaney (RIP), Social Inclusion, HSE;
Lorna Gault, Social Inclusion Measures Committee (Sligo Education Centre);
Des Keaney, Services for Children / Family Support Services;
Siofra Kilcullen, Social Inclusion Measures Committee (SCC, C&E);
Brid MacConville, Arts Sector, former Mental Health Services, HSE;
Hugh McConville and Joanne Ozdarska, Social Inclusion Measures; Committee (Sligo Council of Trade Unions);
Mary McAuliffe, Sligo Arts Service;
Rhona McGrath, Sligo Arts Service and
Tara McGowan, Arts Sector - Blue Raincoat Theatre Company.

If you have any questions please contact Sligo Arts Service, Sligo County Council, First Floor, Development Centre, Cleveragh Road, Sligo on (071) 911 1826.

View Arts in Health publications.