Faces of Sligo Exhibition
FACES OF SLIGO
PHOTOGRAPHIC EXHIBITION BY JAMES FRAHER
This exhibition was commissioned under Bealtaine Festival Sligo 2012, a festival celebrating Creativity in Older Age and was part of Sligo 400, celebrating Four Hundred Years of the Borough of Sligo.

With warmth, perception and wit, the camera of James Fraher has captured images of victuallers and jewellers, barbers and drapers, clothing merchants, gunsmiths and locksmiths. We meet a pharmacist and a publican, a newsagent and a purveyor of fine foods. We discover a woodcarver, a discount emporium and a cobbler.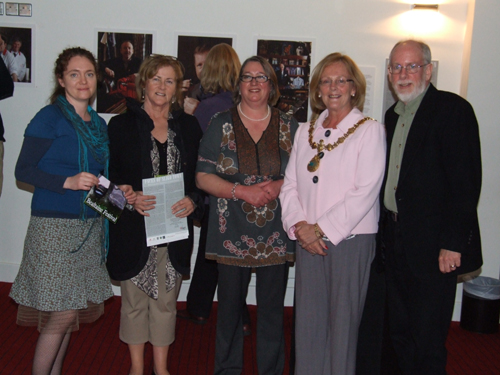 - At Exhibition Launch Catherine Fanning, Maura Gilligan, Mary McDonagh, Mayor Rosaleen O'Grady and Photographer James Fraher
Sometimes visible, often invisible – the common thread that links these images is family.
Generations of Lyons and Smiths have seen the Garavogue rise and fall as it flows by their premises on either side of Hyde Bridge. The ancient flagstone floor of Connolly's pub across the road still hears those river sounds at one of it's doors, and the footfall from Holborn Street at the other. Connolly's public house remains in the family, these days in the hands of Gerry Nicholson. The Smith family still trade in traditional and modern goods and services, and two generations of family members run the hunting, fishing, sports and state-of-the-art locksmith departments with great pride. Richard Lyons still heads his family's business from their beautiful corner building at Wine Street/Quay Street, at the heart of which Lyons Cafe retains its graceful old interior, warmth and welcome.
Mullaney Brothers department store and travel agency and Wehrly's jewellers have resided at their elegant homes in O'Connell Street for over a hundred years. Like Moffit's department store across the road, they retain their central location and their strong family presence. We meet two generations in each shop in the persons of John Mullaney Snr. and John Mullaney Jnr., Tony and Richard Wehrly, and Howard and Sarah Moffitt. All three stores emanate an aura of other worldness, in spite of having moved successfully into 2012.
Situated near each other in Grattan Street, Armin Lowe Jewellers, Collery's Menswear and William Clarke, Victuallers, still trade. Paddy Lowe's father Armin established their business in 1949. Paddy represents the second generation of jewellers in a shop where his mother, father and sisters all worked through the years. He assures us a third generation in the business is not far behind him. James Collery was a merchant tailor in Grattan Street, in the original premises which his son Seamus now runs as a men's outfitters. Across the road, the butcher shop once owned by their father is still successfully run by Keith, David and Ian Clarke with their fellow master-butcher Peter. Keith Clarke's Knocknarea honey is also sold there.
Harmony Hill holds one of Sligo's best known drapers, Blackrock, and the barber shop of Pearse Henry. Both businesses are currently operated by younger family members, bringing life to the quiet hill that leads to the Market Yard. School uniforms representing primary schools throughout the county, and chef's, catering and other specialist uniforms can still be purchased in Blackrock where Colm Fleming continues his father's popular business. At the base of the hill Pearse Henry's niece Caroline carries on the long barber's tradition in that particular premises, but these days a woman gives the haircuts!
| | |
| --- | --- |
| | |
Tucked into a corner in Thomas Street, Alfie's barber shop celebrates forty years in a very busy business run by Alfie Mahon and his wife Mary. Just a stone's throw away, the pharmacy founded by Chris Higgins in Teeling Street in 1948 thrives under the direction of his son Ken and his daughters Stella and Ann-Christine, who are all pharmacists like their father, and who have extended their business to a second shop at Market Cross.
At the Market Cross too, Cosgroves has stood for over a hundred years, purveyors of fine food in Sligo. Three generations of Cosgroves have contributed to this treasure trove of organic and unusual foods and spices. Kevin Cosgrove, with his wife Mary, was known to all when he took over his father's business. Today,their son Michael and his assistant, Pauline, keep that tradition alive and well.
In a hidden courtyard in Wine Street, we find the workshop of Vinnie Middleton who has carried the Rogers & Lyons shoe repair business into this millennium using both ancient and modern tools of the trade. In Wine Street, too, we find brothers James and John Clarke still trading in the building where he was born and raised and where his father's butcher business began, while across the road Michael Quirke has diverged from the trade of his father. He now carves myths instead of meat, and his work in native Irish wood is known worldwide.
| | |
| --- | --- |
| | |
Still in Wine Street and near the Clarence Hotel, the colourful emporium that is Nice Price is run by Stephen Langan and his daughters and daughter-in-law. From a tiny brass screw to a ball of wool, from colourful storage boxes to obscure cooking implements – it's all somewhere on the shelves or in the store-rooms upstairs at Nice-Price. Not far from there, the Bus Top in Lord Edward Street remains an important news agency, where Keville Burns trades on in the business established by his father, Mattie. His sweet store lives on, and school children still congregate to buy their goodies on the homeward journey.
Most of these shops and businesses have withstood the trials of time and previous recessions. Most have, at their core, enduring family links.
The faces in each photograph reflect tradition, stamina, service, a love of place, and continuity.
Maura Gilligan
Sligo, May 2012
Faces of Sligo Town Photographic Exhibition by James Fraher
Bealtaine Festival