Brenda O'Callaghan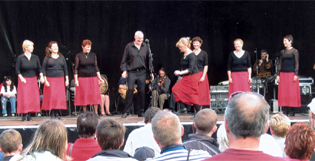 http://www.coscos.ie/
info@coscos.ie
My background is in Traditional Irish Dance as dancer and teacher. I now teach set dancing, Ceili, two-hand dances and Sean Nòs old style steps. I am the founder member of Cos Cos Dance Group, initiated in 2000. Cos Cos dance at festivals and concerts and gigs of all kinds. We had a wonderful response to our performance at the All Ireland Fleadh in Letterkenny and our May Day dance in Sligo's Day of Welcome for the Hungarians in 2004. Cos Cos have a regular monthly gig in the Yeats Tavern, Drumcliffe. Cosóga are the junior dancers with children form 4-14 involved.
I also work in schools in Sligo County with modern educational movement and creative dance. Special needs groups are a great source of inspiration and we all enjoy rhythm and dance using props and percussion. One of the groups performed in the Hawks Well during the year.
Seniors Clubs enjoy movement and dance even if the feet don't work we dance with arms, fingers and hearts. Intergenerational groups continue to grow. Dance is a great way to communicate, relax and gain fitness together. Dance is ageless and inclusive of everyone who wants to move. My aim is to contribute to making a vibrant dance culture in Sligo, embracing the new while preserving the traditions of the past.