Lady Melody Urquhart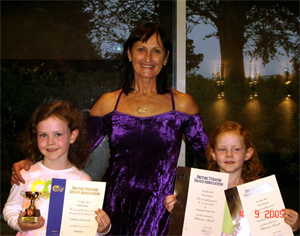 071 9130286 / ladymel@eircom.net
Based in Sligo, the Academy is a centre of excellence for dance education and training. The centre delivers internationally recognised qualifications in a range of performing arts dance forms including Classical Ballet, Modern Jazz, Tap, and Lyrical, as well as training for stage, theatre and cabaret.
The Theatre Dance examinations are approved by the National Council for Dance and Training, and certification is awarded by the British Theatre Dance Association, an Awarding Body approved by the QCA (England) the ACCAC (Wales) and the CCEA (Northern Ireland). The Sligo Academy is part of an international network of training organisations delivering qualifications recognised worldwide.
Principal Melody Urquhart Ph.D, holds Advanced Qualifications with the Royal Academy of Dancing, the Imperial Society of Teachers of Dancing and the International Dance Masters Association and is a registered teacher and adjudicator for the British Theatre Dance Association She was formally a professional international choreographer, director, and producer as well as a licensed Employment Agent for professional dancers and artists.
She devised the Diploma in Variety Entertainment for the RSA Awarding Body, sat on the Advisory Council for the development of VQ'S, GNVQ'S, and NVQ'S, as well as officiating as an External Verifier for the RSA, monitoring Quality Assurance in colleges, universities and dance organisations in England and Northern Ireland.
Melody?s dancers who have reached a professional status have performed in shows all over the world, and have appeared on 17 Royal Variety performances.
The Sligo Academy trains students from 4 years to 18 years, with specialised classes for infants, and offers eligible seniors a direct link for further training at the College of Performing Arts in the UK.

Telephone: 071 91 30286
Email: ladymel@eircom.net