Sligo launch of The Cormorant Issue 7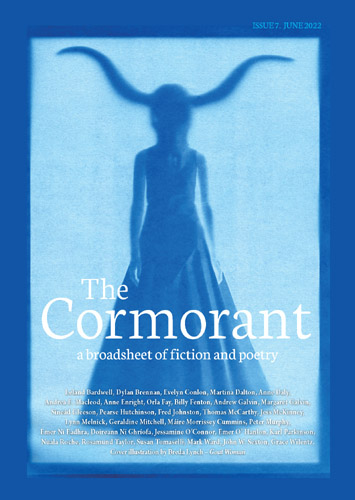 On Thursday 23rd June at 6pm a special gathering at The Factory Performance Space will celebrate the launch of The Cormorant Issue 7. The event will host a series of live readings and it is open to the public and free to attend. Issue 7 of the popular broadsheet features poems and prose by both emerging and established writers from Sligo and further afield. The issue has been guest-edited by award-winning Donegal poet Annemarie Ní Churreáin.
"It has been a real privilege to serve as guest editor for The Cormorant. Thank you to every writer who shared work with us for this issue. There's a touch of magic to this particular issue and I'm especially delighted that it features a piece by one of my favourite poets, the late Leland Bardwell, who lived in Sligo for many years. 2022 is the year of Leland's centenary birthday and in the months ahead there is much, by way of readings and events, planned to honour her uniquely important voice".
Founded in Sligo during the 2018 Tread Softly Festival, The Cormorant has since featured over 180 pieces of writing. Submissions have come from all over the world and include both new and established voices. Co-founder Una Mannion believes The Cormorant's energy comes from "that particular combination of different voices beside each other, urban beside rural, a story from here next to a story from elsewhere, a lyrical burst against a passage of gritty realism". Eoin McNamee says "there's a spare, unpretentious feel to the publication which came about organically. It doesn't try to be cutting edge or make great claims for itself and, consequently, The Cormorant has cut its own edge." Louise Kennedy refers to the how the format itself lends itself to a particular style. "Our relatively small wordcount has demanded much of writers: brevity, precision, the lightest touch".
Issue 7 of The Cormorant was compiled with the editorial assistance of Sligo ATU students Seth Tuohy, Andrew Pelham Burn, Simon Ferris who undertook the work experience as part of their course studies. Together with Ní Churreáin the group read hundreds of submissions which came in through the public call-out. The issue also features original artwork titled 'Goat woman' by visual artist Breda Lynch who works in a variety of media, including drawing, photography, print and digital media, video and installation. Her work engages with dialogues and discourses on queer feminisms, the western mystery tradition and Occulture, appropriation and the economy of the image. Lynch is a full-time lecturer in Fine Art at the Limerick School of Art and Design and has exhibited extensively in Ireland and abroad. Designed by Tiger Print in Sligo, The Cormorant has been supported by The County Sligo Creative Ireland programme as well as Tread Softly and the Arts Council.
The full list of contributors published in The Cormorant Issue 7 includes Leland Barwell, Dylan Brennan, Evelyn Conlon, Martina Dalton, Anne Daly, Andrea E. Macleod, Anne Enright, Orla Fay, Billy Fenton, Margaret Galvin, Andrew Galvin, Sineád Gleeson, Pearse Hutchinson, Fred Johnston, Thomas McCarthy, Jess McKinney, Lynn Melnick, Geraldine Mitchell, Máire Morrissey Cummins, Peter Murphy, Emer Nī Eadhra, Doireann Ní Ghríofa, Jessamine O'Connor, Emer O' Hanlon, Karl Parkinson, Nuala Roche, Rosamund Taylor, Susan Tomaselli, Mark Ward, John W. Sexton and Grace Wilentz.
To keep abreast of The Cormorant news and future call-out for submissions, follow on Twitter at @CBroadsheet
Back to Arts News