Out of Step
Out of Step, curated by Art for Blind for their residency at The Model, home of The Niland Collection, will unfold through film, music performance, conversation and workshops over the weekend of 27th - 29th May.
Audiences will be delighted by a selection of handpicked events as Art for Blind continue to explore Ireland's rich underground musical styles and, in addition, add a film strand to the eclectic programme of events.
The aim of Art for Blinds residency at The Model has been to explore the programming of artists and musicians from diverse social, economic and geographical backgrounds. Out of Step, a weekender inspired by the title of a Minor Threat track expands the residency into the realm of film offering a view from the margins, of people and places out of step with the rest of society.
Events include the fourth and final instalment of Art for Blind's live music programme which digs deeper into Ireland's rich music underground with another two-hander featuring Dublin's Dreamcycles and fresh Sligo/Leitrim collab EgggE hUUUs on Saturday 28th May.
The film programme promises a journey in itself, from artist films by Sligo-based and international filmmakers, a rock-opera to the tune of a remixed version of Pink Floyd's Dark Side Of The Moon to a provocative and genre-shattering Palme d'Or winner. Film screenings take place on Friday at 8pm and Saturday at 12pm.
Drawing the weekend to a conclusion will be a fun and relaxing set of events involving the playful and inventive world of 16mm celluloid animation including a workshop for all ages and an additional screening of 16mm films taking place between 12 and 3pm.
A weekend pass is on sale for €20 along with tickets to individual events at a cost of €8 for individual entry. The Sunday offering is free of charge but places for the workshop are limited with registration required.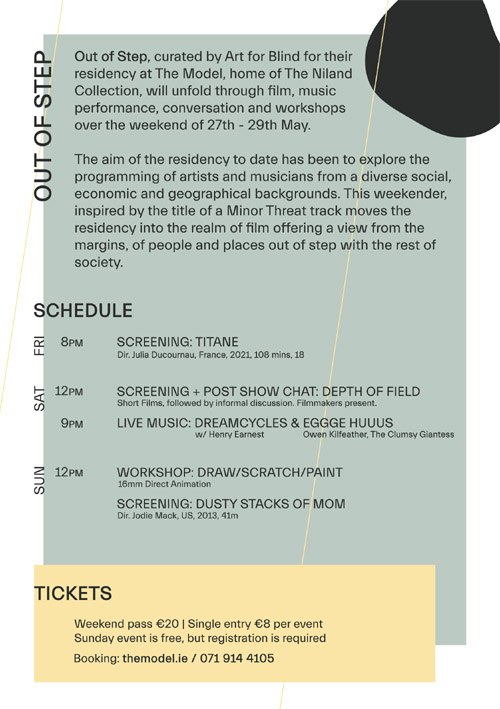 Further detail and tickets available at www.themodel.ie
Back to Arts News