Bealtaine Festival 2022 - Sligo events
All events are FREE to attend. For further information, contact Catherine 086 842 4969
sligoarts.ie www.facebook.com/bealtainefestivalsligo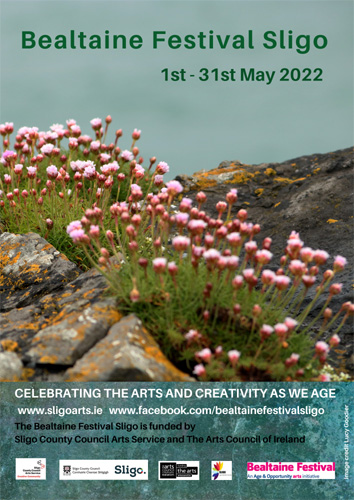 Sunday May 1st
May Day Image #bealtainesligo2022
This May Day as part of the Bealtaine Sligo Festival 2022 we are inviting you to welcome in the summer and share your May Day pictures with us. Open to all ages. Be part of this year's festivities to celebrate creativity as we age. Just TAKE and POST a photo. This can be anything from the whitethorn tree in your back garden to something creative you have made to a photo of your first cup of coffee of the day. This May first take a May Day photo and post it to your facebook and Instagram page #bealtainesligo2022
May 1st – 31st
Commissioned Bealtaine Poem 'They Come in May' by artist and writer Cróna Gallagher
The poem is inspired by this year's national Bealtaine theme In(ter)dependence
Each week during the month of May lines from Cróna's poem will be shared on our Bealtaine Festival Facebook Page. The full poem will be available to older people in Day Care Centres and Nursing Homes as part of the National Arts in Nursing Home Day, May Friday 20th.
Monday May 9th, 3.30 - 5pm
Sligo Childrens Community Garden
Venue: Cleveragh Woods at Sligo LETS Organic Garden
Family Day, 'stories around the fire' dialogue between the older generation and the children from SCCG.
All welcome
Tuesday May 10th (open for viewing)
'Solace' an exhibition of photographs by artist Lucy Goodier
Primary Care Unit, Markievicz House, Sligo
The collection of photographs is curated around this year's national Bealtaine theme In(ter)dependence. In Lucy's work she looks to nature "My Canon 760D travels with me and I am always chasing light, poised to capture unusual and fleeting moments in time."
Tuesday May 10th & Monday May 16th
Hedgerow Project
Artist Clare Doohan will connect in with older community groups in Ballymote and Tubbercurry Day Care Centres to explore her Hedgerow Project work. In 2021 Clare began documenting the hedgerows of Bunnanadden and South Sligo. Clare's project work, wild plant drawings and photographs will be used as a starting point for conversations, the sharing of story and knowledge around the healing, holistic and memories associated with the hedgerow plants.
Wednesday May 11th 11am -2pm
FREE Screen Printing Workshop
Venue: Pulled Studio JFK Parade, Sligo
Screen Printing Tote Bags workshop for over 50s with Dany of Pulled screen printing and design studio.
To book contact catherinefanning@hotmail.com (email heading Screen Printing Workshop)
Participant numbers: 6 max
After a materials gathering walk in Doorly Park participants will head back up to Pulled Studio on JFK Parade. In the studio you will use collected visual material to make screens and print a unique Tote bag.
Wednesday May 18th 12noon
'Inismulclohy' Island Writings & Poems with writer Maura Gilligan
Venue: Yeats Building Sligo
Join us for an offshore literary and musical gem when writer Maura Gilligan shares some readings from her forthcoming book on Coney Island with you, accompanied by invited readers and noted Sligo musicians Deirdre Correia on harp, Anna Huston on cello and Ray Cohen on guitar/fiddle. Tickets are FREE but booking for this event is required.
Email catherinefanning@hotmail.com (email heading Maura Gilligan's event)
Friday May 20th
National Arts in Nursing Home Day
Our Bealtaine Festival Sligo commissioned poem 'They Come in May' by artist and writer Cróna Gallagher is available on request to all Sligo Nursing Homes and Day Care Centres. For enquires contact catherinefanning@hotmail.com (email heading Bealtaine poem)
Back to Arts News