WEBINAR: The Ethical Artist - Creating, Challenging, Meaningful work in a Changing World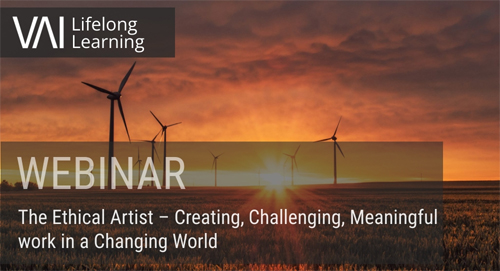 January Wednesday 19th 11am -12.30 online via zoom
Part of Sligo Arts Service CPD Programming 2021-2022
The Webinar will address best practice considerations and techniques for visual artists who wish to reduce their environmental impact. Following on from this webinar, Sligo based artists can avail of 1 of 8 twenty minute 1-2-1 clinics with John Thorne.
The 20 min 1-2-1 clinics will give artists the opportunity to chat with John and discuss their practice.
The webinar and clinic will run Jan Wednesday 19th 11am -12.30 webinar (Online via zoom), 1-2-1 clinics 1pm - 5pm (20 minute sessions). The Webinar and Clinics are free to book for Sligo based artists.
Links for booking
Webinar
Clinics
Clinics - The Ethical Artist Creating Challenging Meaningful Work in a Changing World
Back to Arts News