IMO Youth Orchestra & Choir auditions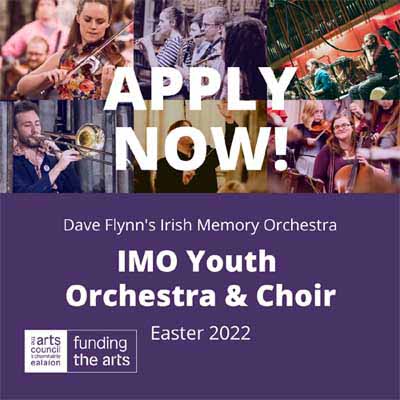 This new cross-genre orchestra is funded by the @artscouncilireland 's Young Ensemble Scheme and will meet in Galway City from 12th-16th April 2022.
Following an audition process, a large number young full-sighted, blind and visually-impaired instrumentalists and singers will be selected to rehearse and perform alongside core members of the Irish Memory Orchestra and professional blind and visually-impaired musicians. Together they will work towards a performance of Dave Flynn's groundbreaking work, The Vision Symphony, conducted by Bjorn Bantock.
Full-sighted, blind and visually-impaired young instrumentalists and singers, performing at an intermediate to advanced level, should submit a video audition online by Friday 24 September. For full details and to apply visit: https://www.daveflynn.com/imoyoc
Back to Arts News