ONLINE: Visual Artists' Café - Show and Tell
This Visual Artists' Café will put our Co. Sligo and Co. Mayo based members in the spotlight in a 'Show and tell' format.
Featured will be 6 artists giving 6 different snapshots of the Sligo/Mayo based Visual Artist in 2020 and beyond; work, motivations, challenges and acclimation. What we experienced. What we learned.
We hope you can join us from your home or studio. Anyone who has attended one of our Visual Artist Cafés around the country in the past will know that the events are informal and all centred around creating a space to share information. Our Show and Tell Café will be no different – we will have six artists sharing their work and experience with you and a chance for you to ask them questions about their practice.
Please do join us, with everything that's going on this will be a chance for us to connect with you and find out how you are getting on and what your needs are.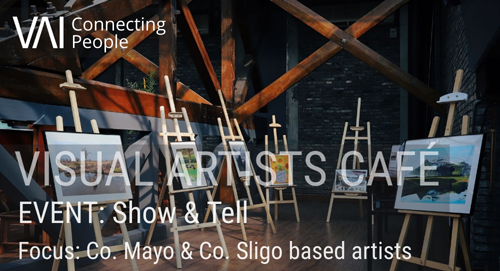 This Visual Artists Café online will feature:
Show and Tell
The purpose of Show and Tell is to allow artists to present work or concepts to each other in an informal atmosphere. The events are also intended to provide the wider general audience with an inside view of artistic practice. A maximum of 6 artists will present as part of the Show and Tell over the course of the day.
Our 6 artists presenting are as follows;
Sligo (3)
Anna Spearman
Hilary Gilligan
Sarah Ellen Lundy
Mayo (3)
Breda Burns
Ian Wieczorek
Áine O'Hara
Booking:
Visual Artists' Café - Show and Tell
Back to Arts News