Fifty Poems Launch
'One by one these bright poem-pennies fuse in your fist to reveal, when opened, a sun-gold gleaming sovereign. Not only lyrical and acute but, more importantly, consistently sincere and true. Marvellous.'
Patrick McCabe
fifty poems by Michael Gorman to be launched by Tommie Gorman at Sligo Live Festival, Hawk's Well Theatre, on Sunday, 20th October, at 2 pm.
Published by Artisan House. Illustrations by Joe Boske.
Michael Gorman's readings are captivating and popular but it is some time since his poetry has been published which makes the announcement of the launch of 'fifty poems' a most welcome development. The collection will be launched by his brother, Tommie Gorman, RTÉ.
'The strongest feeling I have about 'fifty poems' is one of gratitude. I made the poems as clear, inclusive and unadorned as I could manage. I was more than lucky that 'Artisan House' had the same instincts.' said Michael Gorman.
Michael Gorman, now Galway-based, was born in Sligo and educated at Summerhill College and National University College Galway where he taught for many years. Many of the poems conjure up the Sligo of his childhood. 'Picnic' reads 'She remembers the day at Rosses Point,/ the men lying on the grass,/ their heads under the engines of cars, hiding from the sun.'
'fifty poems' is an amalgam of new and collected poems. It is published by Artisan House, Connemara, known for the quality of its design as is apparent in this publication which includes illustrations by Joe Boske, including the cover illustration. It also has a rather unique added element which acknowledges Michael's singularly charismatic reading of his work: Michael has recorded readings of twenty-five of his poems and those are available for download or listening on www.artisanhouse.ie/michaelgorman
fifty poems retails at €18 from bookshops nationwide and online from artisanhouse.ie
Further information:
Mary Ruddy, Artisan House
Email: artisanhouseeditions@gmail.com
Telephone: 087 333 4627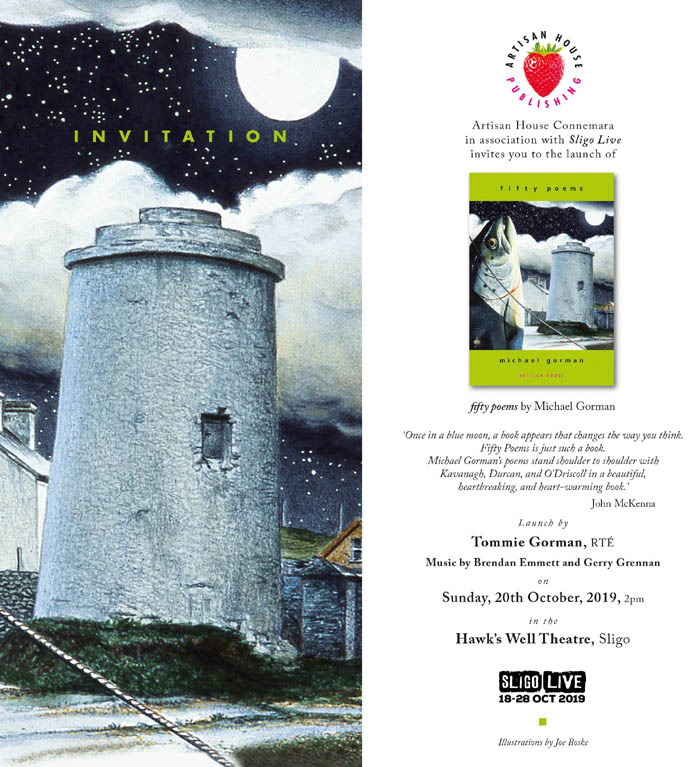 Back to Arts News