Blue Raincoat Theatre Company presents The Travels of Jonathan Swift
Blue Raincoat Theatre Company presents
The Travels of Jonathan Swift
Adapted and Directed by Conall Morrison
2nd - 12th October
@sligoraincoats
The Factory Space, Sligo
'He gave what little wealth he had
To build a house for fools and mad;
And show'd by one satiric touch,
No nation wanted it so much.'
From Swift's ' Verses on the Death of Dr Swift.'
'A hater of his kind ran from them to the wood of madness, his mane foaming in
the moon, his eyeballs stars. Houyhnhnm, horsenostrilled."
James Joyce on Swift - Ulysses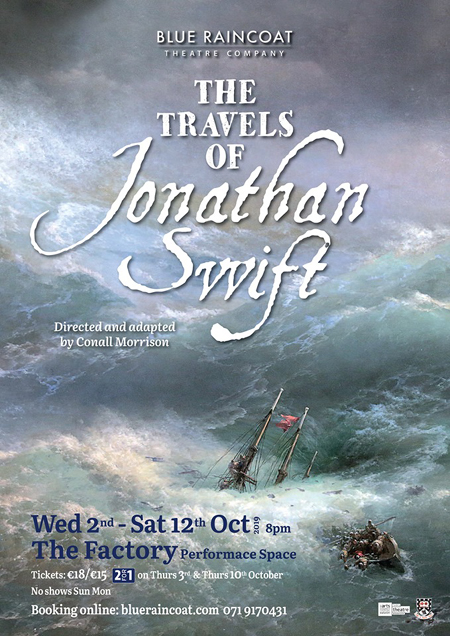 Blue Raincoat Theatre Company are delighted to present the world premiere of The Travels of Jonathan Swift adapted and directed by Conall Morrison in a first-time collaboration with the company.
"We are really looking forward to this show" said Niall Henry, Artistic Director. "This is the first time anyone in the company has had the opportunity to work with Conall and we are really looking forward to seeing how the Travels of Jonathan Swift turns out!"
"It has been a long held ambition to work with Blue Raincoat one of the most exceptional companies in the country, with an aesthetic reach that most companies can only dream of " said Conall Morrison.
For years after his death, the story was widespread in Ireland that Swift had ended his days in St Patrick's Psychiatric Hospital, the institution that he himself founded. The Travels of Jonathan Swift finds Swift in a locked ward, and together with a band of fellow-inmates, he embarks on a free-wheeling ride through vivid episodes from his life and intense loves, and highlights from the works - the Lilliputians, the giant Brobdingnagians, the flying islands, the land of horses.
Drawn from Gulliver's Travels, A Tale of a Tub, and the key relationships in his life, the play matches Swift's remarkable imagination and savage satire with the Blue Raincoats' trademark visual style.
Blackly comic, theatrically extravagant, and startlingly up-to-date in its satirical aim, The Travels of Jonathan Swift is a fantasia drawn from the creations of this most feverishly brilliant of minds.
The Travels of Jonathan Swift is designed by long time collaborators designer Jamie Vartan (The Last Hotel, The Walworth Farce, Ballyturk), sound designer Joe Hunt and lighting designer Barry McKinney. The cast features acclaimed Blue Raincoat ensemble members Sandra O Malley, John Carty, Brian Devaney, Hilary Bowen Walsh and Bob Kelly with Niall Cusack making his Blue Raincoat debut.
Ireland's longest running theatre ensemble Blue Raincoat are synonymous with a range of theatre styles from the absurd worlds of Lewis Carroll and Flann O'Brien to the more expressionistic worlds of their devised work Shackleton and The School Days of Thaddeus K. The company have engaged thousands of people over the years having founded and co-founded an arts festival, a youth theatre, a children's theatre festival, a theatre academy, along with their venue, the Factory Performance Space.
Blue Raincoat Theatre Company would like to acknowledge the support of Creative Ireland, The Arts Council and Sligo County Council.
TIME: 8pm
DATES: 2nd – 12th October
TICKET PRICES: €18/15
BOOKING: www.blueraincoat.com
The Factory Performance Space, Lower Quay Street, Sligo
071 9170431
Back to Arts News