'Entirely hollow aside from the dark'
Visual Artist AlanJames Burns Announces The National Tour of An Exciting Artwork
'Entirely hollow aside from the dark'
Immersive Artwork To Be Installed Inside 5 Caves Across Ireland from July to September 2017
Visiting Caves of Keash (Sligo), Lickhill Cave (Skibbereen, Cork), Aillwee Cave (The Burren), Smuggler's Cave (Portrane, Dublin), Marble Arch Global Geo Park (Fermanagh)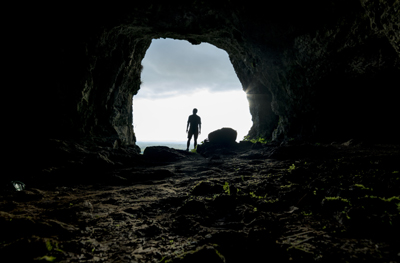 Visual Artist AlanJames Burns has announced an exciting artwork 'Entirely hollow aside from the dark' touring this summer across the island of Ireland. Together with his creative and installation team, AlanJames Burns will traverse the length and breadth of the Irish landscape installing his immersive artwork 'Entirely hollow aside from the dark' inside 5 caves geographically spread across our countryside from July to September 2017.
Created by AlanJames Burns, in collaboration with writer Sue Rainsford and sound editor Ian Dunphy, 'Entirely hollow aside from the dark' will visit the scenic hills of Sligo, the seafront of Co. Dublin, The Burren in Clare, the peninsulas of Cork and waterfalls in Fermanagh.
Tickets, event information and booking guidelines available at www.entirelyhollowasidefromthedark.com
'Entirely hollow aside from the dark' is a psycho-acoustic sound event within caves; ancient natural auditoriums carved into the underbelly of Ireland's countryside. The immersive installation aims to create a visceral experience of journeying into someone's inner dialogue by using cutting edge 3 Dimensional audio.
Using the cave as a physical metaphor for the brain, the cavern personifies the mind of a person questioning their reality, wherein an audible inner dialogue and choreographed sounds echo the character's thoughts, memories and consciousness. In the darkness, this psycho-acoustic work unfolds and a symphony of sounds shifts around the cave
Watch a 3 min clip of this event : https://vimeo.com/192907108
'Entirely hollow aside from the dark' - Tour listings and partners
Caves of Keash, Keshcorran Co. Sligo, 27, 28, 29 July, in conjunction with Tread Softly Festival, supported by Sligo County Council, Sligo Arts Service, Creative Ireland, The Fox's Den Public House
Lickhill Cave, Skibbereen Co. Cork, 2 & 3 August, in conjunction with Skibbereen Arts Festival, supported by Cork Arts Office, Cork County Council
Aillwee Cave, The Burren, Co. Clare, 24 & 25 August, in conjunction with Heritage Week, supported by Aillwee Cave, Heritage Week, Clare Arts Office, Clare County Council, Clare Heritage Office, Creative Ireland, Burren and Cliffs of Moher Geo Park
Smuggler's Cave, Portrane, Co. Dublin, 10, 11, 12, 13 September, in conjunction with Bleeding Pig Festival, supported by Fingal Arts Office, Fingal County Council, Lynders Mobile Home Park
Marble Arch Global Geo Park cave, Fermanagh, 29 September, supported by Fermanagh and Omagh District Council, Cavan County Council, Cavan Arts Office, Creative Cavan, Creative Ireland, Marble Arch Caves UNESCO Global Geopark, Boho Community Association
Tour dates are subject to change due to weather conditions or unforeseen circumstances

The tour of this work is core funded by the Arts Council of Ireland Touring and Dissemination of Work Scheme and kindly supported by Creative Ireland.
Entirely hollow aside from the dark was initially commissioned by Fingal County Council Arts Office as part of 'Resort Revelations', 2016.
Back to Arts News