Lionel Gallagher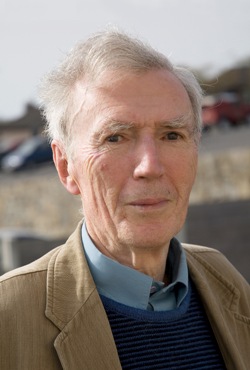 In 2011 Lionel Gallagher introduced his first book, 'Only a Rose and Other Stories'.
Lionel Gallagher has been prominent in the Arts world of the North West but only now gets round to publishing his first book.
Reared in the old Garda Barracks by the bridge in Carrick-on-Shannon and living in Sligo since 1959, Lionel has involved himself in the world of theatre, film, sport and the arts generally over a long number of years.
He has contributed to Force 10, the Leitrim Guardian, theatre reviews and has a regular column in the Retired Secondary Teachers' journal. He wrote 'the Spirit of the Hawks Well' for that theatre's 21st Anniversary having represented the Arts Council on the board for many years.
Educated by the Presentation Brothers in Carrick-on-Shannon and graduating from University College, Cork, he taught for three years in Dublin before settling on the staff of Sligo Grammar School until his retirement.
He has worked extensively in the world of theatre both as actor and director. His favourite acting parts are Clov in 'Endgame', Joxer in 'Juno and the Paycock', Canon in 'Philadelphia, here I come'. He directed such classics as 'Stephen D', 'The Freedom of the City', 'Borstal Boy' and 'My Three Angels' which was runner-up in the All Ireland finals in Athlone. He won an Esso Trophy award as an actor in 'A Streetcar named Desire' [1970].
He had a short but fruitful film career, all three of his films winning award at Festivals. He played 'Old Mikey' for P.F.J. productions' 'To Catch a Crow', 'Fr.Buckley' in 'The Marriage' for Hi Ho Productions and 'Stallholder at market' in an American Company Double A Films' 'Coney Island Baby'.
Married to Joan, all of their five children are interested in the Arts and three of them have careers associated with the arts.
In the 'baker's dozen' of tales which make up 'Only a Rose and Other Stories' Lionel tells of growing up in Carrick from small boy to teenager to hitch hiking student. He uses his Sligo experience of theatre, sport, schools and politics to trace the changing pattern of Irish life in an entertaining and lighthearted way. The title story tells of a spontaneous outbreak of passion between an unlikely couple well past the first flush of youth.