Sleeping Warrior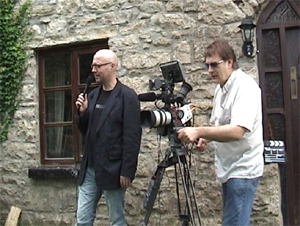 http://www.sleepingwarrior.com/
071-9164601.
Sleeping Warrior Productions is the brainchild of Patrick J.O'Rourke who blew into Dromahair some 14 years ago. To date Patrick has some 30 years experience in the music and film industries in many different roles from writing documentaries and performing to acting and camera work. The first film he worked on was A Bridge Too Far in Holland back in 1976 which was directed by Richard Attenborough. Over the years he has continued working on sets with such names as Kevin Costner, Kenneth Brannagh, Sean Connery, Nigel Havers…the list seems endless. He has also written many documentaries co-presenting a number of them himself. Combine this with the talents and expertise of Jim King who not only holds a masters degree in English, was short-listed for the Sunday Tribune New Irish writing awards, and who is also an experienced and qualified audio engineer, and you get an idea of what can be offered to anyone who might need their services.
Patrick and Jim are pioneering the concept of DVD Brochures in Ireland, a marketing media gaining popularity in the US. A DVD Brochure is a company's own short film to sell its product or service and the cost compares with that of the production of a glossy print brochure run. However it has the potential to do much more, being an interactive experience. Sleeping Warrior can design your brochure with you, or you can you do it yourself as this is your own 10 minute film.
Is this the future face of rural Ireland? It is certainly unusual to find a digital video production studio in an old stone farmhouse 3 miles from Dromahair in County Leitrim, but here it is - technology and creativity dove-tailing neatly together in the newly founded company, Sleeping Warrior Productions. In this wood panelled upstairs studio not only are final preparations being made for the shooting of a short film, but there is the ongoing work of producing DVD Brochures, storyboards, music projects, animations and composited special effects. This makes for a very busy environment for the two main protagonists, Patrick and Jim. If that's not enough, there are boxes of CDs stacked all around due to the fact it is also the base for an online record company for Sligo native Perry Blake, a local singer-songwriter who for many years has been a major star in Europe, picking up many accolades for his work including a gold disc and FNAC award, and now having his newest album released by Warner Bros Europe in the new year. Albums have left this studio to fans in over 20 countries worldwide. This eclectic mix of digital media activities seems a good way from the tractors passing by the window, giving the casual visitor a somewhat surreal experience.
Contact: Sleeping Warrior Productions on 071-9164601.